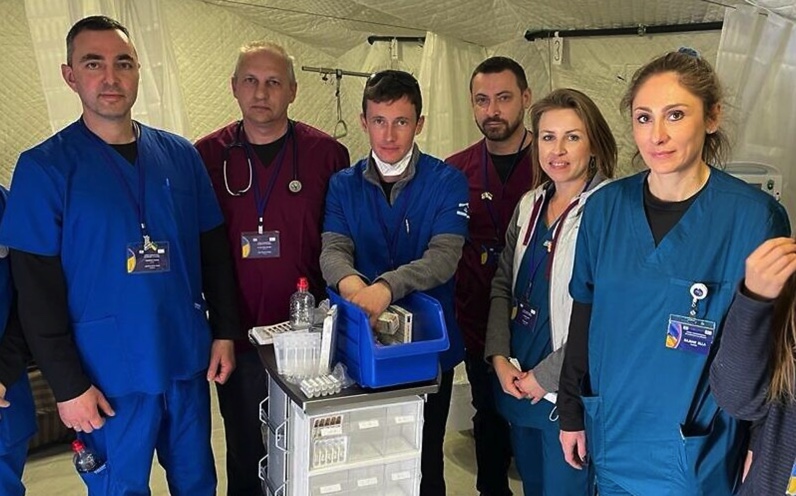 In The News
Israel's field hospital in Ukraine welcomes first patients as air raid sirens wail
Battling persistent air raid sirens, limited resources, and the shadow of wartime uncertainty, Israel's state field hospital opened Tuesday afternoon in western Ukraine, with the first patients arriving just minutes after its official opening.
Housed on the grounds of an elementary school in Mostyska, outside Lviv, the NIS 21 million ($6.5 million) facility fills 10 outdoor tents and has also converted multiple classrooms into hospitalization wards. Beside chalkboards and educational posters lie heart rate monitors, incubators and reclinable hospital beds.
The Israeli mission's 100 staff members – 80 of whom are doctors and nurses – will sleep on-site, in dorm-like conditions, improvised within the school building.
Yoav Bistritsky, the charge d'affaires of Israel's embassy to Ukraine, himself currently decamped to Przemyśl, Poland, said that the civilian hospital will raise the level of care available to refugees and local residents.
"This team will bring to Ukraine the best knowledge, the most innovative opportunities that this country has ever seen," said the Israeli diplomat.
"We promise to keep supporting Ukraine in the coming future too, and we hope to see peace in this land," Bistritsky said, before closing his remarks with a prayer for peace and an "amen" affirmation from the assembled crowd of delegation members, diplomats, Ukrainian government officials, and media.
Read More: Times of Israel