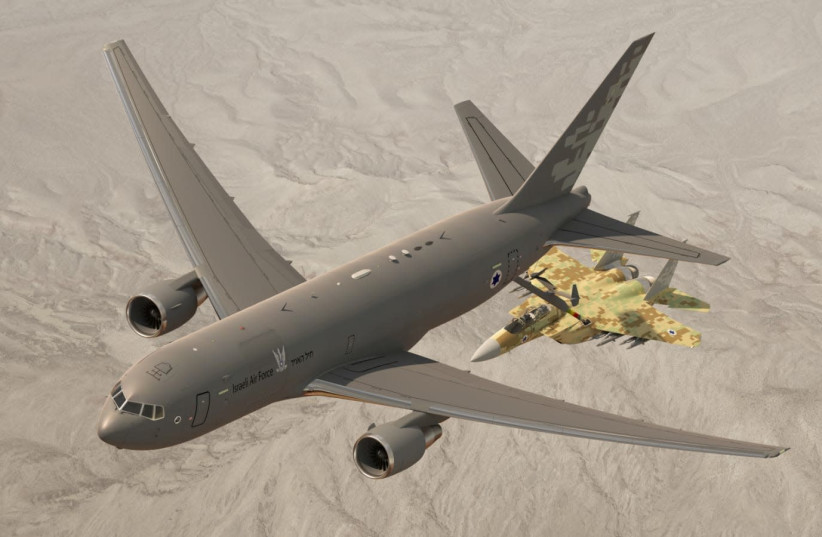 In The News
Israel's Defense Ministry Signs Contract To Buy 2 New Tankers From Boeing
02/22/2021
A week after a ministerial committee approved the Israeli Air Force's (IAF) major procurement deal, the Defense Ministry said on Monday that it signed a letter of acceptance to buy two tankers.
The Boeing KC-46a aerial refueling tankers are intended to replace Israel's aging Re'em fleet, converted Boeing 707s.
The Defense Ministry said in a statement that over the weekend, Defense Ministry's Mission to the US head Brig.-Gen. (ret.), Mishel Ben Baruch "signed a Letter of Offer and Acceptance (LOA), for two KC-46 Tanker Jets, to be manufactured by the Boeing Corporation.
"In the next phase, two additional tanker aircraft will be acquired, out of a total of up to eight that will make up the future fleet," the statement said.
As part of the agreement, the aircraft will be fitted with unique Israeli systems in accordance with the operational requirements of the IAF. The first aircraft delivery is expected by the middle of this decade.
In the next phases of the deal – that is worth billions of dollars – between the Defense Ministry and the US, the Defense Ministry will exercise its option to procure another F35 squadron, to replace the heavy-lift helicopter platform, and to buy advanced munitions.
Read More: Jerusalem Post