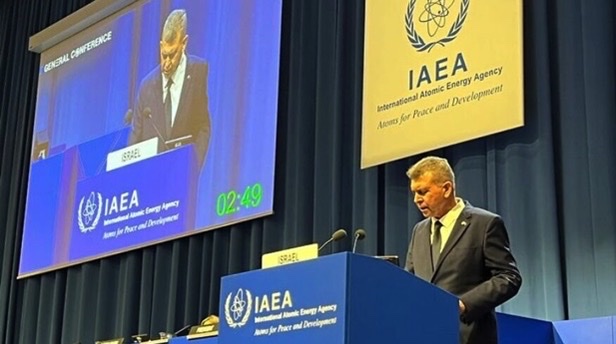 In The News
Israel's atomic energy chief: Israel and the world cannot tolerate a nuclear Iran
Israel's Atomic Energy Commission head Moshe Edri said on Wednesday that neither Israel nor the world can allow Iran to obtain nuclear weapons
Speaking at the sixty-sixth General Conference of the International Atomic Energy Agency (IAEA) in Vienna, Edri said that it was now clear that Iran's nuclear program was military in nature.
"Iran obtaining nuclear weapons is not an option that Israel nor the world can tolerate," he said.
Edri also emphasized that Iran continues to develop, test and deploy long-range ballistic missiles, in direct violation of U.N. Security Council resolutions, and supports terrorist organizations throughout the Middle East.
The IAEA Board of Governors' resolution in June condemning Iran's lack of cooperation with the agency reflected "growing international concerns regarding Iran's ill conduct," he noted.
Read More: JNS