Israeli Society
Israeli women's lacrosse teams gives Kenyan opponents brand-new cleats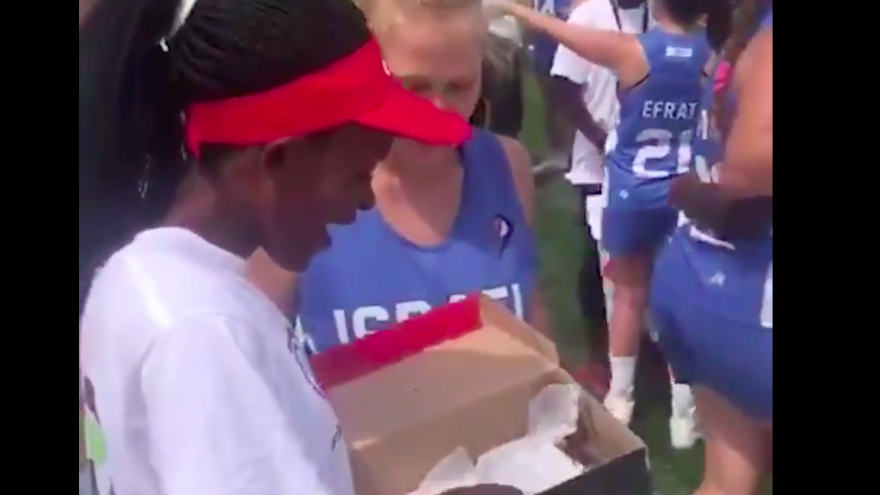 Israel's Women's Lacrosse team has become a worldwide sensation—but not for their performance on the field.
When the Israeli team played Kenya in in the 2019 Women's Lacrosse U19 World Championships in Ontario, Canada last week, the players noticed the Kenyan team did not have cleats but were wearing regular sneakers.
The day after team Israel's 13-4 victory the Israelis returned to the field and gifted a new pair of cleats to each member of the Kenyan team. A video captured hugs between the opponents.
The Kenyan team posted a video of the event on its twitter account. Someone at ESPN noticed the tweet, and then sent the following message to the Kenyan Lacrosse team: "Hello, reaching out from ESPN. Can we please have permission to use this video on our TV and digital platforms?"
Permission was granted and that led to ESPN showing the video on all its platforms, exposing millions of people all around the world to this act of kindness from the Israeli team.
On Thursday, with their new footwear on, team Kenya defeated Belgium 16-9, earning their second win of the tournament.
David Ladsay, COO of the Israel Lacrosse Association, told JNS: "Our players, coaches and supporters take pride in representing our country using our sport as a way of building bridges and connections to Israel. They continue to inspire the world winning on and off the field."
Read more: The Jewish News Syndicate