US-Israel Relationship
Israeli UN Ambassador Urges Security Council to 'Act Immediately' to End Palestinian Authority Payments to Terrorists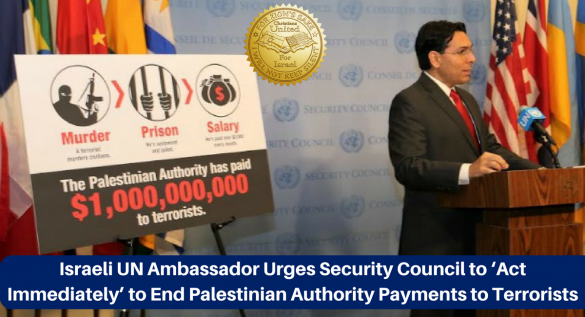 The Security Council must "act immediately" to halt the flow of money from the Palestinian Authority to jailed terrorists, Israeli Ambassador to the UN Danny Danon declared on Thursday.
"Aid provided by the donor countries to the PA every year ends up funding terrorists who murdered innocent Israelis," Danon said in a statement.
In a letter sent to the Security Council the previous day, Danon wrote, "According to Palestinian Authority laws and regulations, every terrorist arrested, tried and imprisoned receives monthly financial payments. The more Israelis killed, the longer the terrorist is sentenced to prison, the higher payment the terrorist receives from the PA."
"A Palestinian terrorist who murders innocent civilians and is sentenced to over thirty years in prison receives over 3,000 US dollars a month," Danon continued. "Put simply, this is official Palestinian blood-money, rewarding terrorists who murder Jews."
Israel, Danon concluded, wants "nothing more than to live in peace and security with all of our neighbors. If the Palestinians seek the same goal, then their first step must be to stop the glorification of terrorists."
During his May 3 meeting with PA President Mahmoud Abbas in Washington, DC, US President Donald Trump "raised his concerns about payments to Palestinian prisoners in Israeli jails who have committed terrorist acts, and to their families, and emphasized the need to resolve this issue," according to the White House.
Read More: Algemeiner