Israeli Technology
Israeli study finds missing protein may contribute to Alzheimer's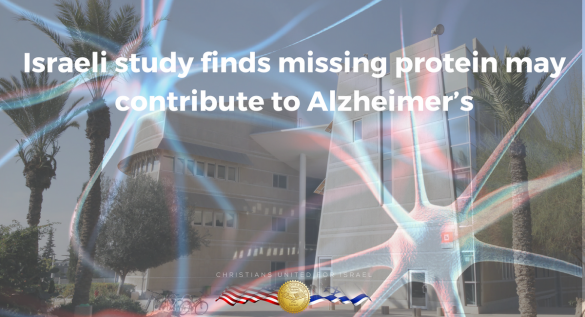 Researchers at the Ben-Gurion University of the Negev (BGU) say they have verified the absence of a protein in Alzheimer's disease patients, and that absence likely contributes to the onset of the debilitating disease.
The common consensus is that aging is the result of DNA damage accumulation — essentially the body's failure to implement processes to completely repair its DNA.
According to the Alzheimer's Association, of the estimated 5.5 million Americans living with Alzheimer's dementia in 2017, 5.3 million are age 65 and older and the remaining 200,000 have younger-onset Alzheimer's. One in 10 people age 65 and older, 10 percent, has Alzheimer's dementia.
According to the study, published last month in Cell Reports, one of the key components in this DNA repair process is the protein SIRT6. BGU researchers determined in mouse models that high levels of SIRT6 facilitate DNA repair while low levels enable DNA damage accumulation.
"We analyzed samples from patients with AD and found a remarkable reduction in SIRT6 at both protein and mRNA levels," they wrote. "Together, our findings indicate that SIRT6 protects the brain from naturally accumulating DNA damage, in turn protecting against neurodegeneration."
Read More: Times of Israel