Israeli Technology
Israeli scientists find way to detect polio outbreaks earlier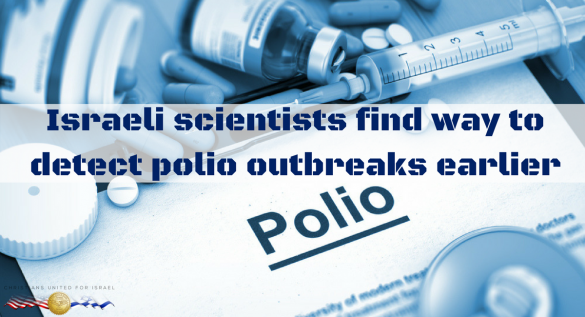 Israeli scientists have developed an improved model for detecting the polio virus before it spreads and causes an outbreak, Ben- Gurion University of the Negev said Monday
Researchers from the Beersheba university described in a paper published last Wednesday in "Science Translational Medicine" their new methodology, which uses levels of the virus in sewage waste to predict an outbreak instead of waiting for reports of paralyses among people
The virus has been eradicated from most countries in the world, following a three-decade effort to eradicate the crippling disease. However a major obstacle is the reintroduction of a wild polio virus from an endemic country to a previously polio-free country.
Using data from an outbreak of wild polio in Israel in 2013, the team, led by Yakir Berchenko, developed a model that uses environmental surveillance to get a more sensitive result than the alternative of waiting for the disease to strike.
Poliomyelitis is a highly contagious viral infection that attacks the nervous system and causes paralysis or death. Through the 1950s, the disease crippled as many as 35,000 Americans per year, but a public health campaign eliminated the disease in the US by 1979.
The American Centers for Disease Control notes that while "polio has no cure, vaccination is the best way to protect yourself and the only way to stop the disease from spreading."
In late August 2013, a wild polio virus was identified in sewage samples taken in the southern Galilee. According to the Health Ministry, the sample was taken before the launch that month of a nationwide vaccination effort against the virus.
Read More: Times of Israel