Iran
Israeli satellite firm reports 'unusual' activity at Fordo site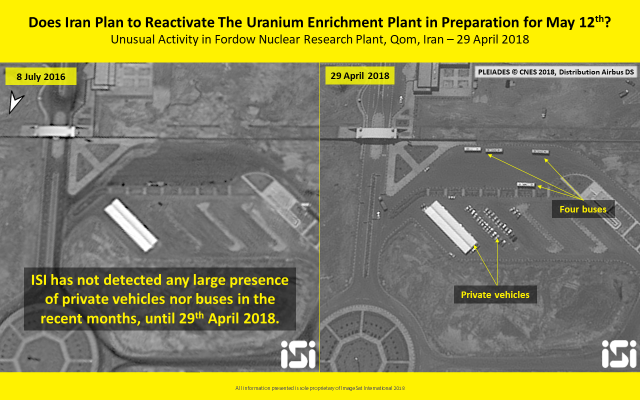 An Israeli satellite imaging company on Thursday released images showing what it described as "unusual" movement around the Iranian Fordo nuclear facility, a one-time uranium enrichment plant buried deep underground that was converted to a research center as part of the 2015 nuclear deal.
The photographs, which show large numbers of vehicles at the entrance to the facility and other signs of increased activity there, do not in themselves indicate any violation of the nuclear accord, known formally as the Joint Comprehensive Plan of Action, or JCPOA.
The fate of the highly contentious nuclear agreement lies in the balance, with US President Donald Trump set to decide whether or not America will remain party to it ahead of a May 12 deadline.
The underground site, which has been protected by the powerful S-300 air defense system since 2016, was not shuttered as part of the accord, but the types of activities allowed there were heavily curtailed.
 Barring a massive, heretofore undetected effort by Iran to bring Fordo back online in violation of the JCPOA, the increased activity could likely be attributed to an attempt by the Islamic Republic to imply that it is prepared to begin enriching uranium at the site if the US pulls out of the agreement.
As part of the JCPOA, Iran was forced to limit the number of centrifuges allowed inside Fordo to 1,044, which would be kept in only one wing of the facility, and agreed that it "will not conduct any uranium enrichment or any uranium enrichment related [research and development] and will have no nuclear material at the Fordo Fuel Enrichment Plant (FFEP) for 15 years."
The International Atomic Energy Agency, which is tasked with monitoring Fordo and Iran's other nuclear facility under the JCPOA, last released a report on the site in late February. Under the agreement, IAEA monitors are entitled to inspect the facility regularly, "including daily" if they so choose.
"Throughout the reporting period, Iran has not conducted any uranium enrichment or related research and development (R&D) activities, and there has not been any nuclear material at the plant," the IAEA reported on February 22.
Read More: Times of Israel