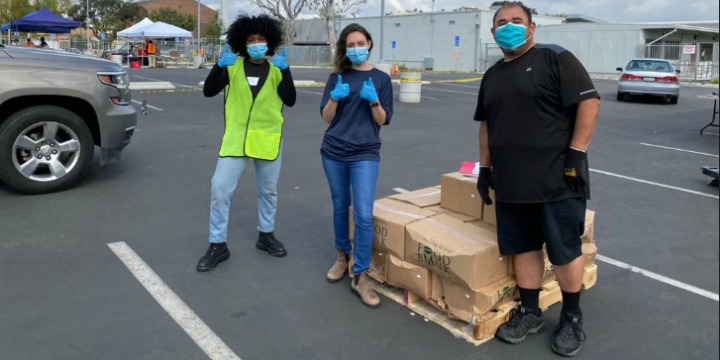 Israeli Society
Israeli NGO Steps Up to Help Americans in Time of Need During Coronavirus Pandemic
Twenty-two-year-old Amir Kashfi arrives early in the morning around 6:30 a.m. outside a Los Angeles school to set up boxes of canned goods, pasta, rice and other non-perishables to dispense. A number of recipients line up by car or by foot by 8 a.m.
The need for this food pantry has spiked during the ongoing coronavirus crisis.
"There's a huge increase in demand because of the pandemic," said Kashfi, a volunteer with IsraAID, an Israel-based NGO that partners with Los Angeles Regional Food Bank and Team Rubicon, which is a US veterans organization, among others in these efforts. "It hurts my heart to see so many in need."
"Our goal is to be there for the community," said Seth Davis, chief executive officer of IsraAID US.
He noted that the short-term goal was to fill a gap and get food to people in need, but the long-term goal was to create a cadre in the community who can respond to such crises. In addition to Los Angeles, IsraAID has helped operate food banks in other California locations, including San Diego, Orange County, San Jose and Santa Barbara.
Read More: Algemeiner