Hamas
Israeli man killed in Jerusalem terror stabbing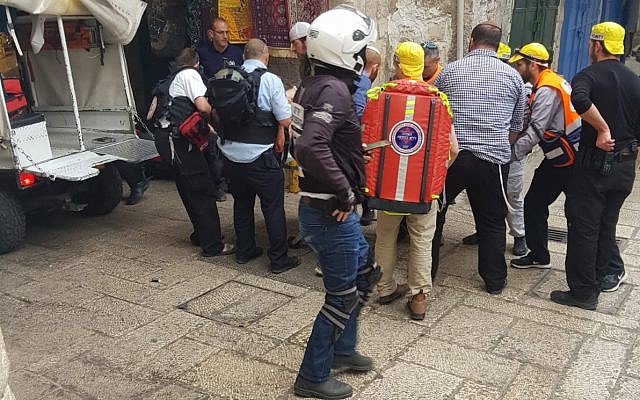 A terrorist stabbed an Israeli man to death in the Muslim Quarter of Jerusalem's Old City on Sunday, officials said. The victim, who was critically injured in the afternoon attack, died of his wounds in the hospital on Sunday evening.
The attacker was quickly shot dead at the scene by an Israel Police officer, police said.
The victim, a security guard, was evacuated to a Jerusalem hospital where doctors tried in vain to save his life.
The killer was identified as 28-year-old Abd al-Rahman Bani Fadel, a father of two from the village of Aqraba, near the West Bank city of Nablus, the Shin Bet said.
The security service dispelled rumors that the attacker was a Turkish national, saying he was a Palestinian resident of the West Bank.Portions of the Old City were closed down following the attack, police said.
The victim was said to be approximately 30 years old. He sustained multiple stab wounds to the upper body and was taken to Jerusalem's Shaare Zedek Medical Center for treatment, according to the Magen David Adom ambulance service.
Hospital officials said the victim was brought to Shaare Zedek's trauma center in "very serious" condition.
He was treated in the hospital's trauma center, but "died of his wounds despite efforts to revive him and life-saving treatment," a hospital spokesperson said.
The stabbing attack occurred along Hagai Street in the Old City.
In order to get the victim out of the narrow alleyways of the Old City, Magen David Adom used a specially designed buggy, medic Pinchas Balsberg said
Once common in the Old City, stabbing attacks have waned in recent months.
"I praise the police officer who reacted swiftly and killed the terrorist and prevented further injuries," said Public Security Minister Gilad Erdan in a tweet.
"The Israel Police will continue to take action against despicable terrorists who are incited [to violence] by the Palestinian Authority in Jerusalem and throughout the country," he added.
On Friday, two Israeli soldiers were killed and two others were injured when a Palestinian man rammed his car into them as they were standing outside a military observation post along a highway near the Mevo Dotan settlement in the northern West Bank.
Read More: Times of Israel