Hamas
Israeli forces gird for fresh violence as tensions mount in Jerusalem, Gaza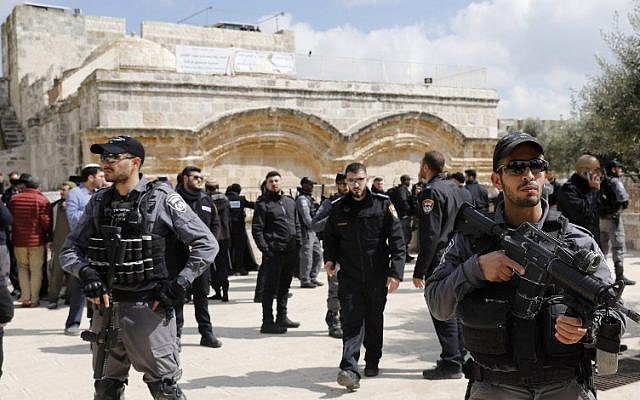 Israeli authorities were readying for possible violence in Jerusalem and on the Gaza border Friday, amid soaring tensions over a long-sealed portion of the Temple Mount holy site and an uptick in cross border fighting with the Palestinian enclave.
Tens of thousands of Muslim worshipers were expected to congregate for weekly prayers on Jerusalem's Temple Mount, with fears that clashes could break out as protesters attempt to re-enter an area near the Gate of Mercy.
The long-standing closure of the area near the Gate of Mercy on the compound, known as al-Aqsa or Haram al-Sharif to Muslims, has ignited tensions between Palestinian worshipers and Israeli police in recent weeks. Worshipers have forced the area open and entered on several occasions.
Authorities are concerned that prayers at the Temple Mount on Friday, the busiest day of the week, could devolve into violent clashes over the dispute.
The Hamas terror group posted a video Thursday calling on Palestinians to gather en masse at the Temple Mount and the surrounding areas in a so-called day of rage against the closure, Channel 12 news reported.
The Waqf religious trust that administers the Temple Mount compound called for protest prayers at the site, but said they were not interested in renewed clashes, Israel's Channel 13 news reported. East Jerusalem Palestinians have also called for non-violent demonstrations.
Police told the Haaretz daily that that they were not beefing up forces in the area beyond normal levels.
Friday is the main day of congregational prayer in the Muslim week and regularly sees thousands of worshipers entering the compound, which is governed by a sensitive status quo.
Read More: Times of Israel