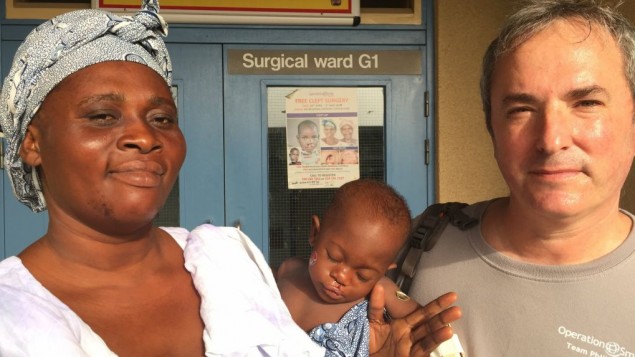 Israeli Society
Israeli doctors return smiles to African children's faces
It's an operation that only takes one hour, but it allows hundreds of children to face the future with a smile.
That's the contribution of two plastic surgeons from the Rambam Medical Center in Haifa, who recently returned from Africa where they were on a mission to correct facial deformities in local children.
Doctors Omri Emodi, a craniofacial surgeon, and Zach Sharony, a plastic surgeon, were working in Ghana on a mission organized by Operation Smile, a US based humanitarian organization, along with a team of surgeons and medical staff from 12 countries.
"If a child has a facial deformity, it can affect eating, drinking, speaking and, of course, his or her own self-image," explained Emodi. "You walk with a sign on you, especially in Africa. You could easily be an outcast."
Their patients ranged in age from a few months old to young men and women in their 20s. They came from all over Ghana, some as far as 500 miles away. Most of the operations were on cleft lips and palates, while others dealt with more complex surgeries on facial deformities
The doctors worked non-stop in seven makeshift surgery rooms in the city of Ho, and, together with an international team of surgeons, technicians, nursing staff and anesthesiologists, completed 155 operations in eight days.
"You work with a team that you do not know and who come from another culture. But once you get into the rhythm, everyone becomes one team, motivated by the desire to help these people," said Emodi.
"It takes only less than one hour to carry out the operation," Emodi said, but can change the life of a child. "The mission is so satisfying," he added, smiling. "It's like a gift from God."
Read More: Times of Israel