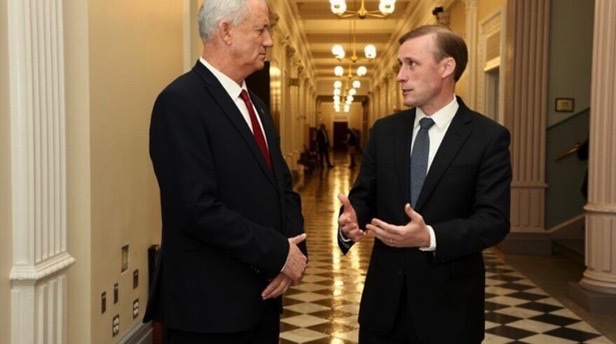 In The News
Israeli defense minister, U.S. National Security Advisor meet in White House
Israeli Defense Minister Benny Gantz commenced his official visit to the United States on Wednesday, meeting with U.S. National Security Advisor Jake Sullivan in the White House. The two discussed various security threats, foremost Iran, as well as regional opportunities, according to a statement from Gantz's office.
Iran was a central discussion topic,  with Gantz sharing assessments of Iran's nuclear program progress, as well as its regional destabilizing activities.
During the talks, Gantz "emphasized the need to work closely and prepare for any future scenario. This would be conducted within the framework of Israel's excellent defense cooperation with the U.S. and growing ties with regional partners," according to the statement.
Gantz also briefed Sullivan on the recent wave of terror that has claimed 20 lives in Israel over the past two months.
Read More: JNS