Boycott, Divestment, Sanctions (BDS)
Israeli ambassador donates party fund to soccer league for Nigerian children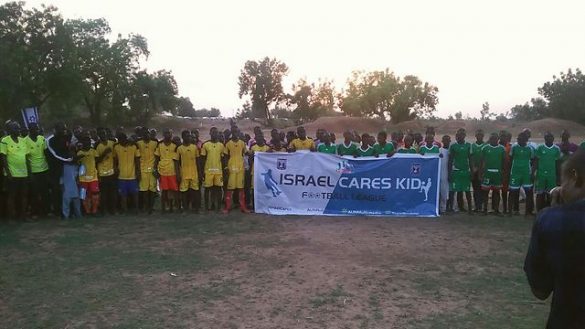 Israel's ambassador to Nigeria, Guy Feldman, has initiated a special soccer league for hundreds of children living in refugee camps in the country. These are children displaced from their homes because of the terrorist organization Boko Haram.
According to a report presented at the UN Security Council, the radical Islamic Jihad has killed more than 3,900 children over the last four years, wounded more than 7,300 and kidnapped more than 4,000 children in northeastern Nigeria.
Feldman, Israel's new ambassador to Nigeria decided to cancel the reception on Independence Day and do something more useful with the money. He created a soccer league for Nigerian children aged 8 to 12 who are in refugee camps in the state of Adamawa, Nigeria, on the border of Cameroon. There are some 770,000 children displaced in these camps because of Boko Haram.
225 children from three refugee camps were divided into 10 groups and played against each other for a week. The embassy took care of everything: uniforms, balls, coaches, judges. "Our intention was to bring a message of hope to the children, which is also the Zionist message," explained Feldman, who also gave the league a name: "Israel cares—Kids' Football League."
Read More: Y Net