US-Israel Relationship
Israeli Aid Teams Deploy to Florida's Hardest-Hit Areas in Wake of Hurricane Irma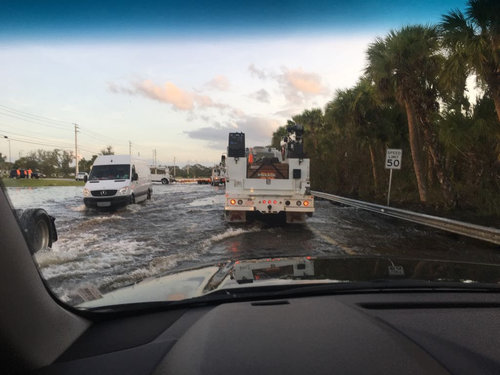 Israeli rescue and humanitarian aid groups have deployed to the hardest-hit areas in Florida, including the Florida Keys and Naples areas, in the wake of Hurricane Irma, which struck last weekend.
In the Florida Keys, teams from the Israel Rescue Coalition (IRC) and United Hatzalah brought aid and medical assistance as well as much needed water and food to residents Tuesday. They also conducted house-to-house searches for people who chose not to evacuate and were stranded by the hurricane.
"The entire area is without water, power, food, plumbing or cell service and most of the homes are severely damaged," Gavy Friedson, an EMT with IRC and United Hatzalah, said of the Florida Keys. "We are on the way to assist with search and rescue ops such as door-to-door searches for missing people or families — and unfortunately there is a long list of missing people."
Among the Florida Keys residents the Israeli teams assisted was a US military veteran named John, who lives in Marathon, Fla. in the central Keys and took shelter from the storm in his bathroom, but has been without food, water or electricity for days.
"John suffers from a respiratory condition that requires him to receive oxygen on a regular basis," said Tamar Citron, a veteran search and rescue volunteer from Israel, who is part of the IRC/United Hatzalah team. "Once the hurricane hit, he, like all the residents who were still on the islands, were unable to leave."
"We provided him with water, food and a lot of positivity," Citron added. "We notified local authorities and EMS teams that he was here and made sure that they followed up to properly care for him."
Read: Algemenier