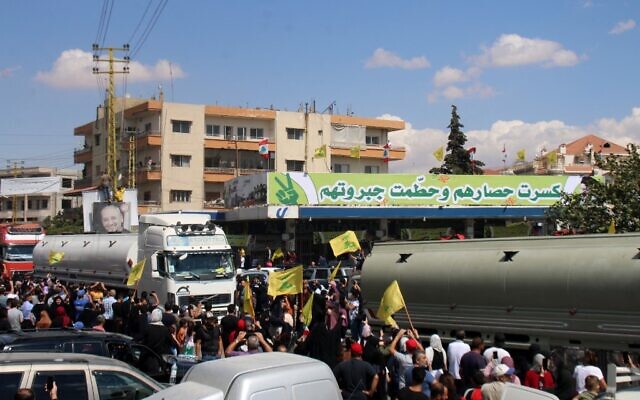 In The News
Israel won't interfere with Hezbollah-run oil shipments from Iran to Lebanon
Israel won't move to stop Iran shipments of fuel to Lebanon, amid the serious economic and energy crisis plaguing the neighboring country, according to a senior military official and a television report on Thursday.
Dozens of trucks carrying Iranian diesel arrived in Lebanon on Thursday, the first in a series of deliveries organized by the Iran-backed Hezbollah terror group. The overland delivery through neighboring Syria violates US sanctions imposed on Tehran after former president Donald Trump pulled America out of a nuclear deal between Iran and world powers in 2018.
The shipment is being portrayed as a victory by Hezbollah, which stepped in to supply the fuel from its patron, Iran, while the cash-strapped Lebanese government grapples with months-long fuel shortages that have paralyzed the country. Hezbollah operates independently from Lebanese authorities, which are struggling to deal with a crippling energy crisis.
While Israel has carried out hundreds of airstrikes in Syria to prevent Hezbollah weapon shipments from reaching their targets, officials are concerned that targeting the fuel would be seen as needlessly harming the economic recovery of Lebanon, Channel 12 reported on Thursday night. Israel has therefore decided to avoid intervening, the report said.
Read More: Times of Israel