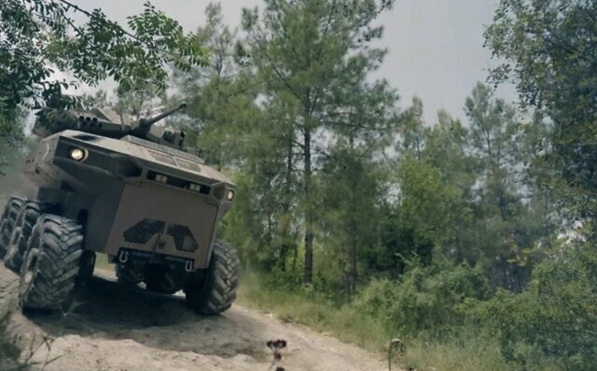 In The News
Israel unveils armed robotic vehicle for 'forward reconnaissance missions'
The Defense Ministry on Monday announced it would begin testing a new robotic unmanned combat vehicle it is developing with several Israeli arms firms.
The Medium Robotic Combat Vehicle (M-RCV) — unveiled for the first time at the Eurosatory defense expo being held in Paris — integrates several "cutting-edge technologies," according to the ministry, including an anti-tank missile launcher, a system for transporting and receiving drones, the ability to carry heavy loads and advanced maneuvering capabilities.
The robotics platform was developed by BL Advanced Ground Support Systems; a 30-millimeter machine gun turret was developed by the ministry's Tank and APC Directorate; an active defense system was developed by Elbit Systems; and the missile launcher was developed by the Israel Aerospace Industries, capable of launching Rafael Advanced Defense Systems' "Spike" anti-tank missiles.
The ministry said the vehicle has the ability to hold a drone for "forward reconnaissance missions," and an array of passive sensors developed by Elbit and Foresight Autonomous.
"The M-RCV's capabilities include a highly autonomous solution for forward reconnaissance, and controlled lethality in all-terrain conditions," the ministry said in a statement. "It is operational during the day and night in all-weather scenarios, while emphasizing operational effectiveness, simplicity, minimum operator intervention, and integration into heterogeneous unmanned arrays."
Read More: Times of Israel