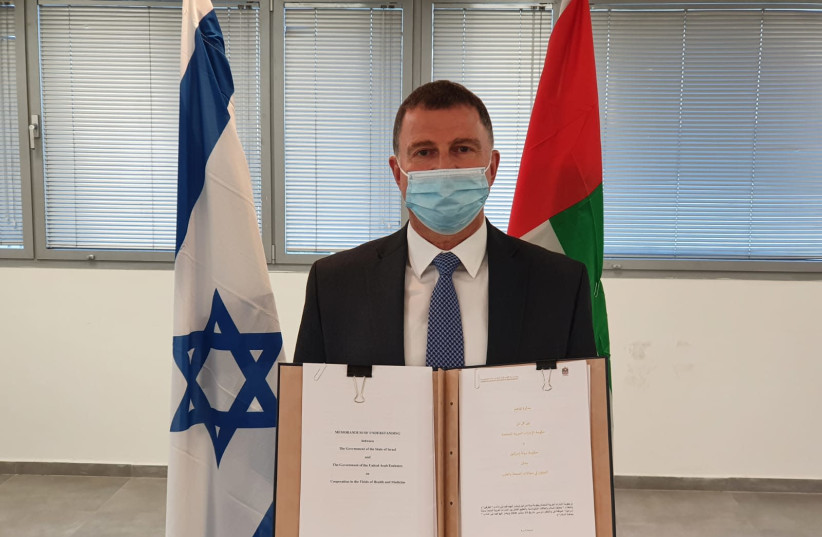 In The News
Israel-United Arab Emirates sign health cooperation agreement
04/21/2021
Israel and the United Arab Emirates have signed an agreement for extensive cooperation in the health sector, Health Minister Yuli Edelstein announced on Wednesday, as Foreign Minister Gabi Ashkenazi revealed that the two countries are working on mutual vaccine recognition to allow tourism and business exchange to resume. 
The collaboration between Israel and the UAE in the health sector will range from the fight against global pandemics to medical education, including the fields of digital medicine, protection of medical data, use of artificial intelligence, new technologies and public health.
The move is expected to encourage the exchange of experts and the development of joint projects between the two nations, as well as direct collaborations between medical institutions. 
"The agreement with the United Arab Emirates will strengthen Israel's health system," Edelstein said. "We have what to offer and what to receive. This is one of the most important collaborations."
"In the coming years, the cooperation will bear fruit for the citizens of Israel in the best possible way," he said. "I thank the employees of the Health Ministry and the Foreign Affairs Ministry for their hard work that helped formulate the agreement."
Read More: Jerusalem Post