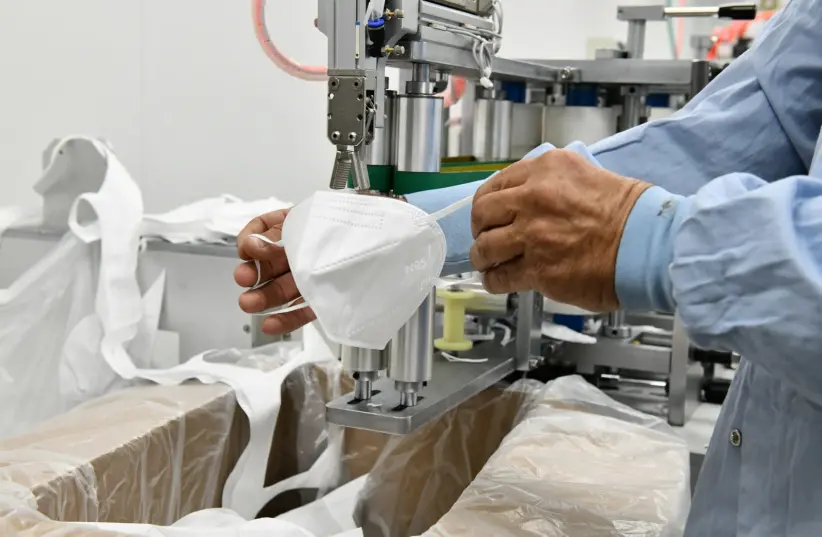 Medical Advancement
Israel Inaugurates First 'Blue-And-White' COVID-19 Mask Production Line
The country has inaugurated its first production line for N95 masks, with the expectation that it will produce as many as two million per month.
N95 masks are medical grade masks with a filtering capacity of 95% and are essential for medical teams that come into direct contact with coronavirus patients and carriers. The World Health Organization recommends that all medical personnel wear such masks.
 This is the first production line of its kind in Israel and among a few around the world. It was established by the Directorate of Production and Procurement (DOPP), in the Defense Ministry and Sion Medical in the southern city of Sderot.
"I commend the important activities of the procurement directorate and of the entire Defense Ministry, which encourages 'blue and white' [local] production," said Defense Minister Benny Gantz. "The State of Israel is fighting a virus that threatens and takes human lives.
"We are preparing for a second wave of the virus, and are also in the process of entering a period of routine with a backdrop of corona," he said. "This activity removes our dependence on foreign factors, contributes to the Israeli economy during a difficult period, and also provides employment opportunities for the residents of the South."
Read More: Jerusalem Post