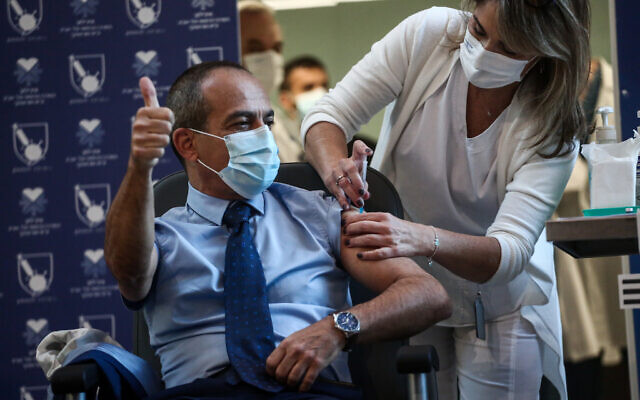 In The News
Israel In 'Final Stages' Of COVID, Showing World An Exit Strategy, Says Top Official
01/15/2021
Israel is in the "final stages" of the coronavirus pandemic, a senior health official said Friday after data showed the country was seeing clear results of its massive vaccination drive.
"We are in the final stages of the coronavirus. Israel, with the scale of its vaccine drive, is showing the world that there is an exit strategy," Ronni Gamzu, who was Israel's COVID czar and has since returned to his job as director of Ichilov Hospital in Tel Aviv, told Channel 12 news.
His assessment appears to be shared by Prime Minister Benjamin Netanyahu, who was recorded earlier this week telling a closed-door meeting that "It's over."
"You all understand that everything we are talking about the corona is just compensation for the past. It's over," Netanyahu told members of a protest group representing independent business owners in leaked remarks recorded Wednesday and broadcast by Channel 12 on Friday.
The confidence comes with Israel having vaccinated nearly a quarter of the eligible population and clear signs the shots are having an impact.
Thursday saw 56,716 Israelis receive their first inoculation, totaling 1,992,806, with another 64,366 getting their second shot, reaching 169,707 — by far the highest vaccination rate in the world, according to the Our World In Data website.
Netanyahu vowed last week that Israel would ramp up its vaccine drive further, to a target of administering 170,000 shots a day, as a new batch of hundreds of thousands of doses of Pfizer's vaccine touched down at Ben Gurion Airport.
Read More: Times of Israel