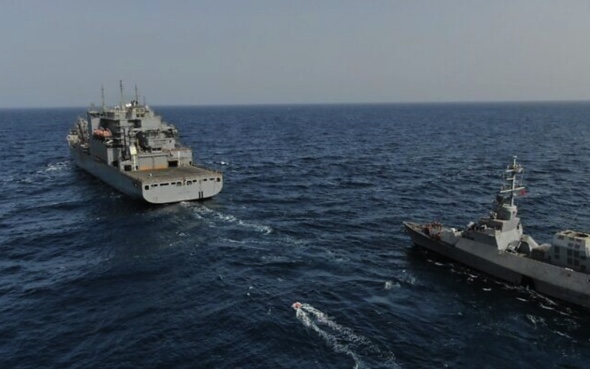 In The News
Israel holds Red Sea navy drill, after warning Iran's maritime activity is growing
The American and Israeli navies began a four-day joint maritime exercise in the Red Sea on Monday, less than a month after Defense Minister Benny Gantz said Iran's maritime activity in the area was the "most significant" in a decade.
"The exercise is a bilateral training event between US 5th Fleet and Israeli naval forces that focuses on mission planning, maritime interdiction and other drills at sea," a statement said from the US 5th fleet said.
The Israel Defense Forces confirmed the drill, saying Israeli vessels would "participate in a variety of missions alongside [US 5th Fleet] ships and a refueling tanker."
The Israeli ships involved in the drill were the Saar 5 Class Corvette INS Eilat and the Sa'ar 4.5 Class Missile Ship INS Keshet. The INS Eilat was involved in the interception of several Hezbollah drones launched at an offshore gas field last month.
Last November, the Israeli Navy participated in a 5th Fleet-led exercise in the Red Sea alongside the UAE and Bahrain in what Israeli officials said was meant to serve as a response to recent attacks by Iran against Israeli naval assets.
Read More: Times of Israel