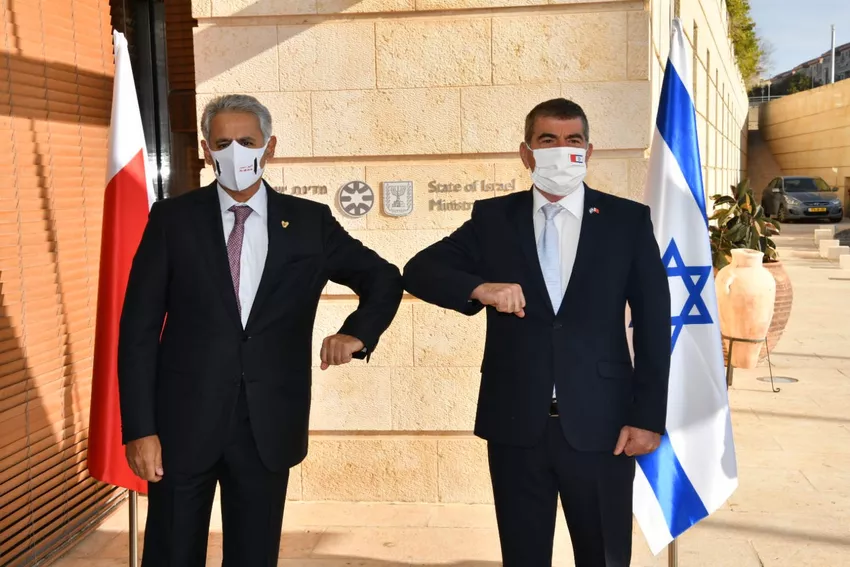 In The News
Israel FM Announces New Bilateral Agreements With Visiting Bahrain Official
12/02/2020
The bilateral agreements aim to bolster tourism, culture, science and technology between both nations
Israeli Foreign Minister Gabi Ashkenazi welcomed Bahrain's Commerce and Tourism Minister Zayed R. Alzayani to Jerusalem on Wednesday.
The two senior government officials announced that their countries have reached a number of bilateral agreements that will help bolster tourism, sports, culture, science and technology, and the economies of both nations.
"As ministers, we are committed to bringing about the implementation of the agreements, as soon as possible, so that the peoples of our countries can soon enjoy the fruits of the peace that we have dreamed of," Ashkenazi said.
"Such a delegation symbolizes first and foremost the normalization of relations between the countries and our common desire to promote change in the Middle East. A change that brings with it peace, stability, security, economic prosperity and commercial, cultural, business, technological and more collaborations."
Alzayani said for his part that he was "convinced" that the implementation of the Abraham Accords will have a lasting impact on both Israeli and Bahraini citizens, adding he hoped they could serve as a guide for other countries to follow in the region.
"We are eager to launch direct flights between Bahrain and Tel Aviv," Zayed R. Alzayani said after his meeting with Ashkenazi.
"With us today in the delegation is a significant team presence from Gulf Air, our national carrier, to make sure that that gets established and up and running as soon as possible."
Read More: I24