Hamas
Israel blacklists Hamas station said to use on-air cues to recruit terrorists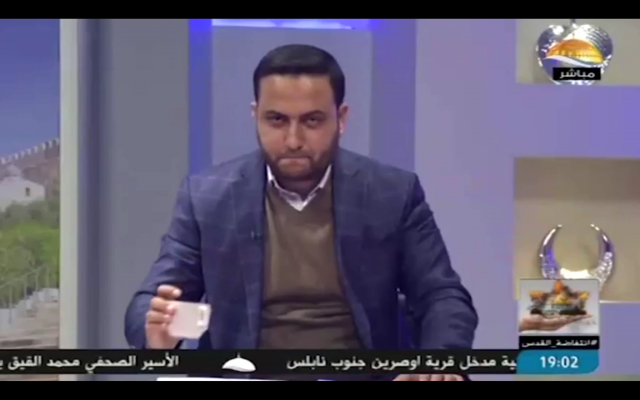 Israel on Wednesday officially designated as a terror organization a Hamas-run Palestinian television network accused by the Shin Bet security service of using on-air cues to direct terror attacks and recruit terrorists in the West Bank.
Prime Minister Benjamin Netanyahu, who is also defense minister, signed a decree proscribing Al-Aqsa TV in accordance with Israel's counter-terror law, his office said in a statement.
"This decision comes at the recommendation of the Shin Bet and the Defense Ministry's National Bureau for Counter Terror Financing, after the Shin Bet revealed terror group Hamas's use of the satellite channel 'Al-Aqsa' to recruit operatives," the statement said.
The Shin Bet last month accused the broadcaster and Gaza-based journalists of acting as agents of Hamas's military wing, and passing clandestine messages to terror operatives in the West Bank and East Jerusalem by using quotes from the Quran or subtle gestures by the presenters. The Shin Bet named two presenters who it said conveyed messages from Gaza via signals on air.
The Shin Bet said the plot was a key factor in the decision made by the Israel Defense Forces to bomb Al-Aqsa TV's headquarters in Gaza in November.
Read More: Times of Israel