Israel Defense Force (IDF)
Israel Apartheid Week flyer at Columbia U. depicts IDF soldier with horns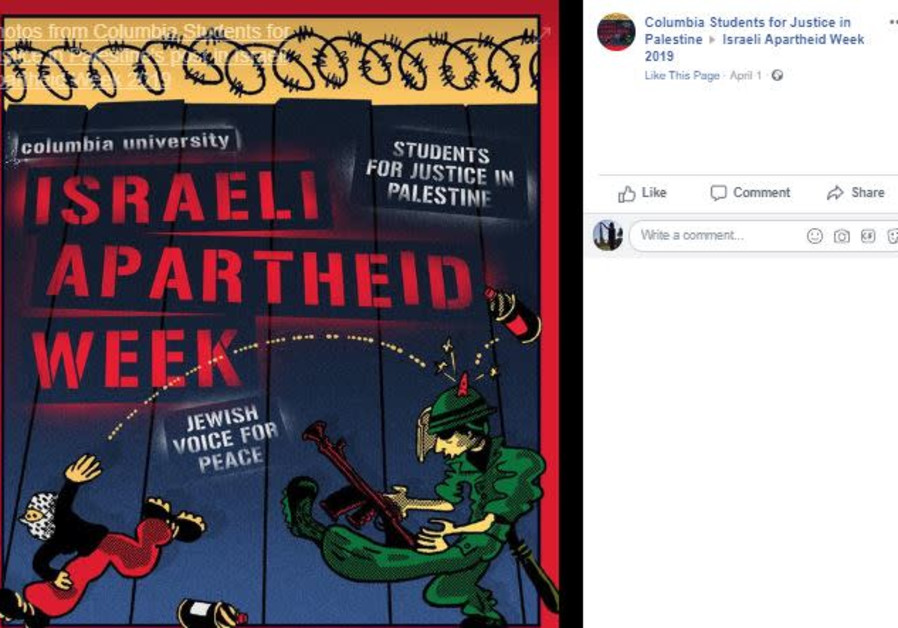 Students Supporting Israel at Columbia University is calling on the public to reach out to the office of the president of Columbia University and take a stance against what the organization is calling "blatant antisemitism from the dark ages of Europe" on campus.
Earlier this week, Students for Justice in Palestine, Columbia University Apartheid Divest and Jewish Voice for Peace disseminated a flyer around campus depicting an Israeli soldier with horns on his head to help promote Israel Apartheid Week.
The same image is being used to promote the week on Columbia Students for Justice in Palestine's Facebook event page.
SSI discovered the flyer and shared it on its Facebook page with the following message:
"While the Israeli-Palestinian conflict is a profoundly complex situation which can harbor intense emotions from the victims of both sides, such a disgusting and cheap act of portraying Jewish soldiers with physical deformities is downright abhorrent and antisemitic and must be condemned by Columbia University."
SSI noted that "this kind of repugnant caricature of Jews is a sore reminder of blatant antisemitism from the dark ages of medieval Europe when antisemitic propaganda depicted Jews as satanic consorts and an incarnation of absolute evil. Physically, Jews were portrayed as menacing, hirsute, with boils, warts and other deformities, sometimes with horns, cloven hoofs and tails. It is extremely painful to see that the same rhetoric is being used on the campus of an Ivy league university in the United States."