Israel Defense Force (IDF)
Israel and Gaza: How did we get here?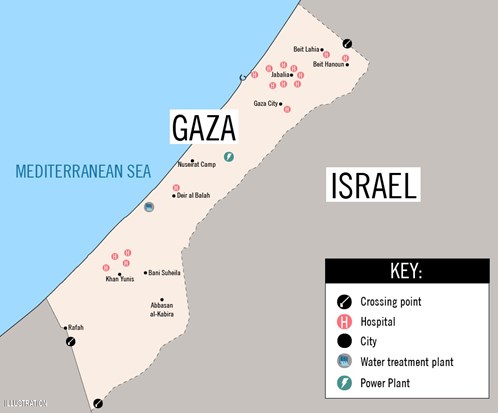 For months, there has been an escalation of violence along the security fence between Gaza and Israel, including violent riots and the most serious incident since Operation Protective Edge in 2014. In addition to the riots, Hamas operatives began carrying out a new kind of attack, using arson kites and incendiary balloons to set Israeli land ablaze. These incendiary devices heavily impacted Israel's southern communities, burning more than 8,000 acres of Israeli land and setting about 11 fires each day.
During violent, Hamas-lead riots, a sniper from the Gaza Strip shot and killed IDF Staff Sgt. Aviv Levi. This lead to a wide-scale response, in which IAF fighter jets struck over 60 Hamas terror targets in a strategic campaign to significantly damage Hamas' combat capabilities.
With tensions rising, it's leading many to ask how the relationship between Israel and Gaza got to this point.
Israel unilaterally withdrew from the Gaza Strip in the summer of 2005 after years of attacks on Israeli civilians. All IDF posts were removed and over 9,000 Israeli citizens living in 25 communities were evicted.

Prime Minister Ariel Sharon, who was in office at the time, addressed the United Nations General Assembly, expressing hope for a better future for Gazan civilians. "The end of Israeli control over and responsibility for the Gaza Strip allows the Palestinians, if they so wish, to develop their economy and build a peace-seeking society, which is developed, free, law-abiding, and transparent, and which adheres to democratic principles," he said.
Prior to being evicted, the Jewish communities in Gaza owned thousands of greenhouses and had a flourishing agricultural economy. Upon their eviction, 3,000 of these greenhouses were left to help kick-start Gaza's economy. Unfortunately, shortly after Israel's withdrawal from Gaza, the greenhouses were looted and some of the equipment was turned into rockets that were subsequently fired at Israel.
Immediately after Hamas was elected into power in 2007, huge amounts of munitions were illegally smuggled into Gaza. This included 31 tons of military grade explosive materials and 14,000 rifles. Additionally, in the first year of Hamas' reign, hundreds of rockets were fired at Israel. Israel's Security Cabinet then declared the Gaza Strip a hostile territory.