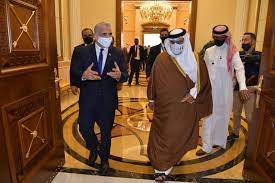 In The News
Israel and Bahrain sign partnership deals during Lapid visit
Israel's Foreign Minister Yair Lapid signed a series of key partnership agreements during a meeting with his Bahrain counterpart Abdullatif al-Zayani on Thursday.
The deals focused on areas of collaboration between the two nations in future healthcare, sports, and environmental initiatives.
"His Majesty's leadership and inspiration have led to true cooperation and our meeting outlined the path forward for our relationship," Lapid announced, praising the visit on Twitter.
"Our opportunities are shared. Our threats are also shared, and they aren't far from here," Israel's foreign minister cautioned to the media.
Many experts believe Lapid was referring to Iran, whose delay in returning to nuclear negotiations elicited concern from world powers.
Read More: i24 News