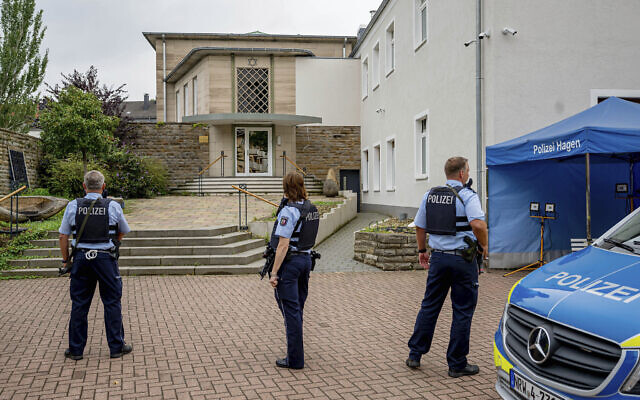 In The News
'Islamist' plot to attack German synagogue on Yom Kippur foiled; 4 arrested
A 16-year-old Syrian boy and three other people were detained on Thursday in connection with a suspected plan for an Islamic extremist attack on a synagogue in the German city of Hagen, authorities said.
The case revived memories of an attack two years ago outside a synagogue in the eastern German city of Halle, when a neo-Nazi gunman sought to storm the building while worshippers were inside marking Yom Kippur.
Police cordoned off the Hagen synagogue on Wednesday and the Yom Kippur service planned for the evening was called off.
Officials had received "very serious and concrete information" that there could be an attack on the synagogue during Yom Kippur, said Herbert Reul, the interior minister of North Rhine-Westphalia state, where Hagen is located. The tip pointed to "an Islamist-motivated threat situation," and named the possible timing and suspect, he added.
"It appears that prior to today on Yom Kippur, an Islamist motivated attack was averted," said Armin Laschet, the state premier of Germany's most populous region North Rhine-Westphalia, where Hagen is located.
Read More: Times of Israel