Israel Defense Force (IDF)
Iron Dome defense system notes 85% success rate in 2019, IDF says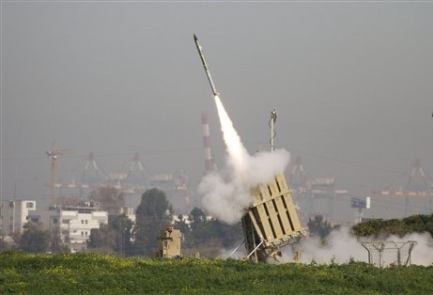 The Israeli military on Thursday released data on operational activity on all fronts in 2019, showing that its "campaign between the wars" – an ongoing Israeli military and intelligence effort to disrupt the force buildup of the Iranian-Shiite axis throughout the Middle East – is nowhere near winding down.
The Gaza Strip sector continued to be highly volatile, as terrorist groups fired 1,295 projectiles at Israel. Some 729 rockets hit open areas, while the Iron Dome defense system intercepted 478 shells, noting an 85% success rate.
The IDF struck 900 Hamas and Islamic Jihad terror targets in the coastal enclave last year.
The defense establishment continued making progress on Project Hourglass – the construction of an underground barrier meant to neutralize Hamas' grid of terror tunnels.
Israel is currently building a 60-kilometer (40-mile) barrier some 250 meters (820 feet) from the Israel-Gaza border. At 80 centimeters (30 inches) wide, the barrier has a system of advanced sensor and monitoring devices to detect tunnels, while above ground there will be a fence 6 meters (20 feet) high, similar to the one which runs along the Israeli-Egyptian border. The expected cost of construction is over 3 billion shekels ($870 million).
In 2019, the IDF was able to complete 22 kilometers (13 miles) of the barrier. Brig. Gen. (res.) Eran Ofir, who oversees the project, said he was confident the barrier would be concluded by the end of 2020, as planned.
IDF data further showed a decrease in terrorist attacks across Judea and Samaria and east Jerusalem – 51 in 2019 compared to 76 in 2018.
Security forces noted 1,469 stoning incidents involving Israeli cars driving on Judea and Samaria roads, and 290 incidents in which firebombs were hurled at Israeli vehicles and settlement homes.
Israeli security raids seized 603 illegal weapons and 521 knives, and shuttered 14 weapon mills across the West Bank.
Security forces further arrested 2,328 Palestinian terror suspects.
The Israeli Air Force noted thousands of operational flights in 2019: Fighter jets logged in 1,800 flights, helicopters – 600, and the transportation planes – 900. Overall, the IAF's manned aircraft logged in 40,000 flight hours last years.
The IDF's Cyber Directorate reported thwarting hundreds of attempts to launch cyberattacks on military sites, including the first failed cyberattack by Hamas.
Read more: Israel Hayom