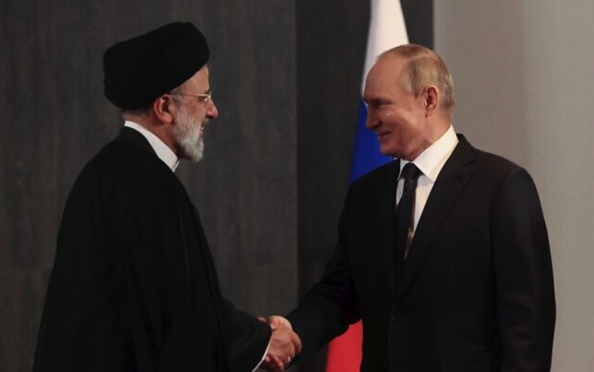 In The News
Iran's Raisi tells Putin cooperation makes US-sanctioned countries 'stronger'
SAMARKAND, Uzbekistan — Iran's President Ebrahim Raisi on Thursday told his Russian counterpart Vladimir Putin that the cooperation among countries sanctioned by the United States will make them "stronger."
"The relationship between countries that are sanctioned by the US, such as Iran, Russia or other countries, can overcome many problems and issues and make them stronger," Raisi said in a meeting with Putin in Uzbekistan.
"The Americans think whichever country they impose sanctions on, it will be stopped. Their perception is a wrong one."
Putin hailed growing ties with Tehran as he met Raisi on the sidelines of a regional summit.
"On the bilateral level, cooperation is developing positively," Putin said, as Moscow looks to use the Shanghai Cooperation Organization in Uzbekistan to show it is not isolated internationally despite its invasion of Ukraine.
Read More: Times of Israel