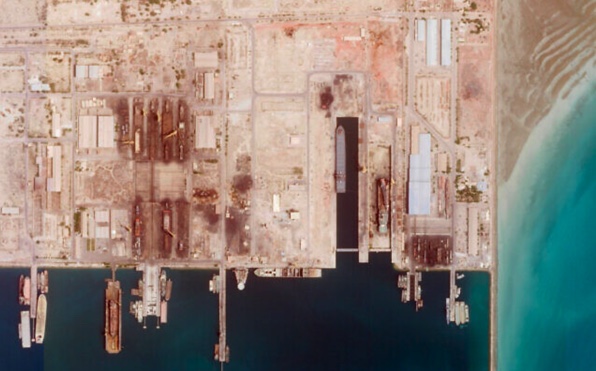 In The News
Iran's Guards building massive ship to project naval power beyond Persian Gulf
DUBAI, United Arab Emirates (AP) — Iran's paramilitary Islamic Revolutionary Guard Corps is building a massive new support ship near the strategic Strait of Hormuz as it tries to expand its naval presence in waters vital to international energy supplies and beyond, satellite photos obtained by The Associated Press show.
The construction of the Shahid Mahdavi provides the Guard a large, floating base from which to run the small fast boats that largely make up its fleet designed to counter the US Navy and other allied forces in the region.
Its arrival, however, comes after a series of setbacks for both the Guard and Iran's regular navy, including the loss of its largest warship less than a year earlier. As negotiations over Iran's nuclear deal with world powers also founder, further confrontations at sea between Tehran and the West also remain a risk.
"They are looking beyond the Persian Gulf and into the blue waters of the Arabian Sea and the Red Sea and the northern Indian Ocean," said Farzin Nadimi, an associate fellow at the Washington Institute for Near-East Policy who studies the Iranian military.
The Shahid Mahdavi appears to be a retrofit of an Iranian cargo ship known as the Sarvin, based off of previous pictures of the vessel which also has a similar curve to its hull.
Read More: Times of Israel