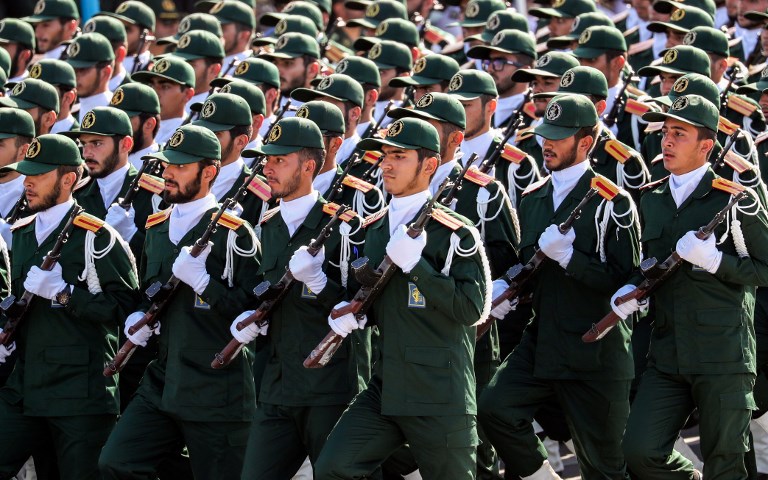 Iran
Iranian Revolutionary Guards Commander Reported Killed In Drone Strike
11/30/2020
A senior commander in Iran's Revolutionary Guard was killed in an apparent drone strike along the Syrian-Iraqi border, according to widely circulated reports in Arabic-language media Monday.
Iraqi security sources told Saudi-based al-Arabiya News that a drone killed Muslim Shahdan, a senior commander in the Islamic Revolutionary Guards Corps, in a targeted strike on his car.
Other sources in the Iraqi security services told Lebanese-based al-Hadath that three of his companions perished with him.
The reports did not say who was behind the strike, which reportedly happened early Sunday or late Saturday.
It was the latest in a rapid escalation in military action over the past few weeks that have seen a top Iranian nuclear scientist assassinated and unconfirmed reports of air strikes that have killed pro-Iranian fighters or Iranian troops in Syria. The attacks have all been attributed to Israel.
Two Iraqi security officials separately said that Shahdan's vehicle was carrying weapons and was hit shortly after it crossed the border from Iraq into Syria, Reuters reported.
Israel and the US have accused Iran and its proxies of attempting to smuggle weapons via Iraq to Syria and Lebanon to be used against the Jewish state.
On Sunday, IDF chief Aviv Kohavi said that Israel would not let up its campaign aimed at keeping Iran-backed fighters from gaining a foothold in Syria.
Read More: Times of Israel