Iran
Iran unveils new ballistic missile in secret 'underground city' facility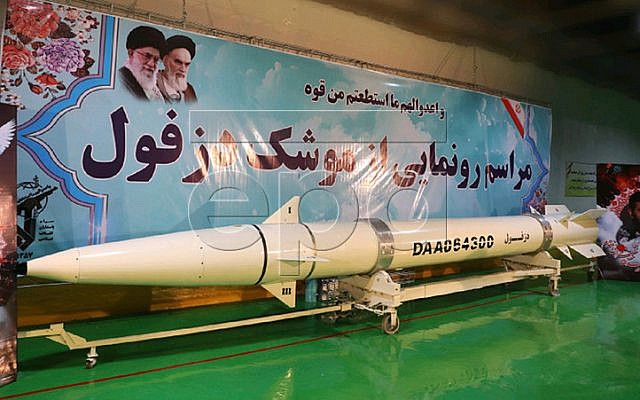 TEHRAN, Iran — Iran's Revolutionary Guards on Thursday unveiled a new ballistic missile with a range of 1,000 kilometers (620 miles), their official news agency Sepah News reported.
The move was the latest show of military might by the country as it celebrates the 40th anniversary of the Islamic Revolution at a time of heightened tensions with the United States.
The surface-to-surface missile — called Dezful — is an upgrade on the older Zolfaghar model that had a range of 700 kilometers (435 miles), aerospace commander Brigadier General Amirali Hajizadeh said.
The new weapon was revealed after Iran on Saturday said it had successfully tested a new cruise missile named Hoveizeh with a range of 1,350 kilometer.
The unveiling ceremony Thursday was carried out by Revolutionary Commander Major General Mohammad Ali Jafari and Hajizadeh at an "underground ballistic missile production facility," the report said.
The semi-official Fars news agency, close to the Guard, described the location  an "underground city."
The facility's location was not specified and pictures published by Sepah News showed only the two commanders in a room examining the missile.
"Displaying this missile production facility deep underground is an answer to Westerners … who think they can stop us from reaching our goals through sanctions and threats," Jafari was reported as saying.
"Europeans talk of limiting our defensive capability while they have the audacity (to allow) their offensive power be used to attack innocent people all over the world," he added.
Read More: Times of Israel