Iran
Iran threatens to 'annihilate' Israel, as Hezbollah boasts of reach of rockets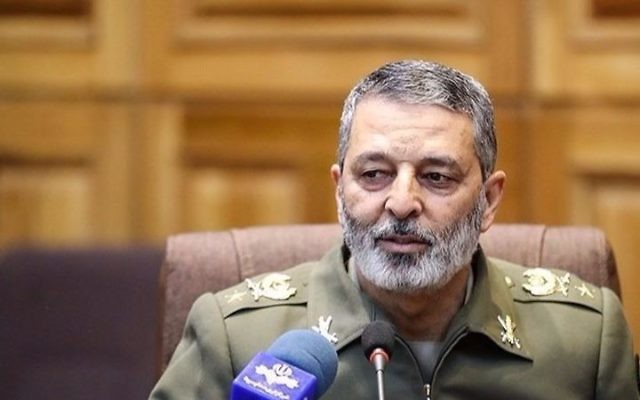 The head of the Iranian army on Saturday said Iranian forces were working to "annihilate" Israel and predicted they would achieve success within 25 years.
The threats from the Commander of Iran's Army Major General Abdolrahim Mousavi come amid almost daily warnings of conflict from Tehran and Jerusalem, heightened by an alleged Israeli strike on an Iranian base in Syria earlier in the month.
"When the arrogant powers create a sanctuary for the Zionist regime to continue survival, we shouldn't allow one day to be added to the ominous and illegitimate life of this regime," Mousavi told a ceremony in Tehran on Saturday, according to the Fars news agency.
"The Army will move hand in hand with the IRGC so that the arrogant system will collapse and the Zionist regime will be annihilated," General Moussavi said, refering to the Revolutionary Guards.
He predicted this would take place with in 25 years, a number frequently used by the Iranian leadership.
Speaking hours later Hezbollah chief Hassan Nasrallah warned that the Lebanese terror group's rockets could hit all of Israel.
"The forces of the resistance today have the ability, the power and the missiles to hit any target in Israel," said Nasrallah.  Hezbollah is one of Iran's main proxies in its fight with Israel.
On Friday, the vice commander of Iran's Revolutionary Guards warned Israel  that its airbases are "within reach," in remarks apparently reacting to Israel's publication on Tuesday of a map showing five Tehran-controlled bases in Syria.
"Israel: Don't trust in your airbases; they're within reach," Hossein Salami wrote on Twitter, also making similar comments in a fiery speech.
Israel, said Salami, was living "in the dragon's mouth." Both northern and western Israel were "in the range of our missiles," he threatened, in a speech given in Tehran.
Read More: Times of Israel