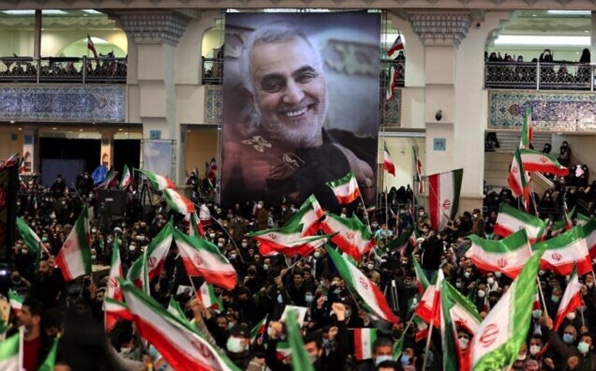 In The News
Iran says won't abandon avenging Soleimani killing to end sanctions
Iran's Revolutionary Guards said Thursday they will not stop efforts to avenge a top general killed in a US attack as a condition to end some sanctions.
General Qassem Soleimani, who headed the Quds Force, the foreign operations arm of the Revolutionary Guards, was killed in a US drone strike in Iraq's capital Baghdad in January 2020.
"Enemies have asked us several times to give up avenging the blood of Qassem Soleimani, for the lifting of some sanctions, but this is a fantasy," Guards navy commander Rear Admiral Alireza Tangsiri says, quoted by the Guards' Sepah News website. The Guards are the ideological arm of Iran's military.
Iran has been engaged for a year in negotiations with France, Germany, Britain, Russia and China directly, and the United States indirectly, to revive the 2015 deal, known formally as the Joint Comprehensive Plan of Action (JCPOA). US president Donald Trump withdrew the US from the deal in 2018, leading Tehran to break away from it as well.
The commander's comments may have been a reference to Iran's demand that it remove the Guards from a terror blacklist in order for Tehran to return to compliance with the multilateral nuclear agreement.
Read More: Times of Israel