Iran
Issues
Iran says missile program 'non-negotiable,' denies report it's open to talks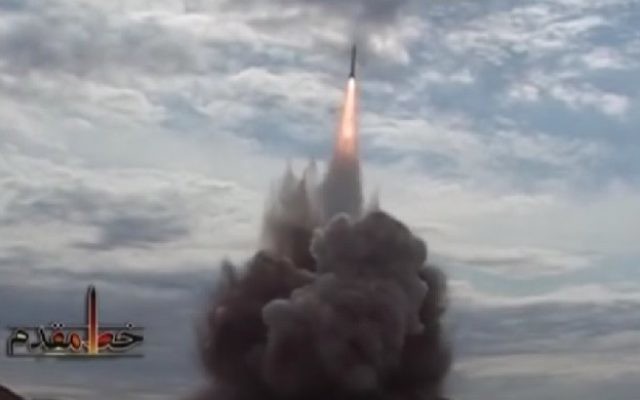 Iran said Friday that its ballistic missile program was "not negotiable," denying a report that suggested it was open to talks on its controversial arsenal, which has earned sharp rebukes from the US and accusations that it was violating the spirit of the 2015 nuclear deal
"Iran has in all bilateral diplomatic meetings … emphasized that its defensive missile program is not negotiable," and does not violate a Security Council resolution endorsing the nuclear accord, the Iranian Mehr news agency quoted Foreign Ministry spokesman Bahram Qasemi as saying.
Qasemi was responding to a Reuters report earlier Friday that said Tehran indicated to the P5+1 world powers, with whom it signed the nuke accord, that its disputed ballistic program may be open to discussion, in a possible bid to reduce escalating tensions amid reports US President Donald Trump will not recertify the deal in the upcoming October 15 deadline to report to Congress on whether Iran is complying with the agreement.
The Iranian overtures reportedly took place last month during meetings between Tehran and the six world powers on the sidelines of the United Nations General Assembly.
Trump has repeatedly blasted the 2015 nuclear agreement, under which Iran curbed its nuclear program in exchange for having punishing sanctions lifted, calling it an "embarrassment and "the worst deal ever negotiated."
The Reuters report quoted Iranian and Western officials familiar with the issues, with one former US Defense Department official saying Tehran had tested the waters in recent weeks as rumors Trump would decertify the deal ratcheted up.
"Iran has put feelers out saying it is willing to discuss its ballistic missile program and is using contacts … officials who were 'holdovers' from the Obama administration," the former official told Reuters
One Iranian source, who requested anonymity, told Reuters: "During their meeting on the sidelines of the UN General Assembly last month, Iran told members of the (world powers) that it could discuss the missile programme to remove concerns."
The source said that when Iranian Foreign Minister Mohammad Javad Zarif met with his counterparts from the P5+1 last month, including US Secretary of State Rex Tillerson for the first time, "The Americans expressed their worries about Iran's missile capability and Zarif said in reply that the program could be discussed."
Read More: Times of Israel