Iran
Iran says it dismantled CIA spy ring, arrests 17, sentences some to death: report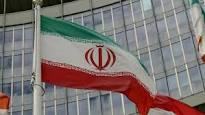 President Trump on Monday dismissed as "more lies and propaganda" claims out of Iran alleging authorities there had disrupted a CIA spy ring and sentenced several of the plotters to death — a development that threatened to further inflame an already precarious staredown between the Islamic Republic and the United States.
Trump's tweet, which also mentioned an Iranian drone shot down by the U.S. Navy last week after the unmanned vehicle wandered too close to the USS Boxer, echoed comments made earlier in the morning by Secretary of State Mike Pompeo and cast Tehran as flailing amid tough U.S. sanctions that threatened to strangle its economy.
"The Report of Iran capturing CIA spies is totally false. Zero truth," Trump wrote. "Just more lies and propaganda (like their shot down drone) put out by a Religious Regime that is Badly Failing and has no idea what to do. Their Economy is dead, and will get much worse. Iran is a total mess!"
The roundup of the alleged espionage cell ensnared 17 people during the past several months and was completed by the end of March, an Iranian official said at a news conference in Tehran.
Read More: Fox News