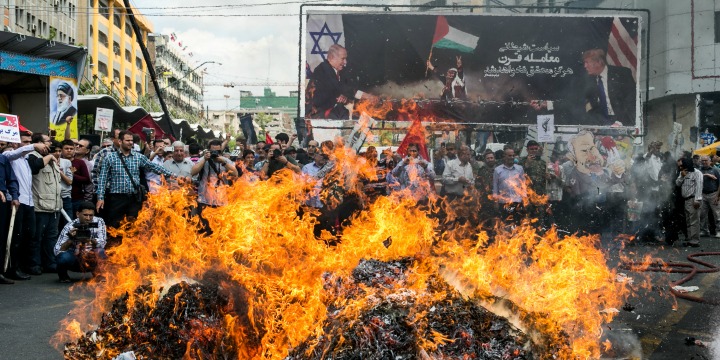 Iran
Iran Regime Pledges Annual 'Quds Day' Urging Israel's Destruction Will Go Ahead, Despite Coronavirus
The Iranian regime's annual day of rallies and demonstrations calling for the destruction of the State of Israel will go ahead this year despite the coronavirus pandemic.
According to Press TV — the Iranian regime's English-language propaganda arm — "pro-Palestinian groups in London and elsewhere across Britain plan to replace street rallies with online events to commemorate the International Quds Day as a deadly coronavirus pandemic has restricted mass gatherings across the globe."
In Iran itself, meanwhile, officials have indicated that physical demonstrations and rallies will be encouraged to proceed wherever possible.
"Quds" (Jerusalem) Day was launched as an annual event in 1979 by Iran's Islamist leader, Ayatollah Ruhollah Khomeini, on the last Friday of the Muslim holy month of Ramadan — which falls this year on May 22.
Mass rallies urging Israel's violent destruction are typically held in Tehran and other Iranian cities, with pro-Iranian groups in London, Berlin, Vienna and other international cities holding demonstrations that display the flag of the Iranian-backed Lebanese terrorist group, Hezbollah — now the subject of a comprehensive ban by the British, German and other European governments.
Read More: Algemeiner