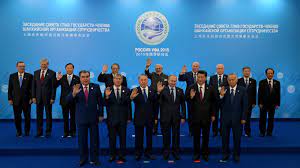 In The News
Iran Joining the Shanghai Cooperation Organisation
Members of the Shanghai Cooperation Organisation (SCO) unanimously agreed on Friday to elevate Iran to full membership. The Islamic Republic of Iran's entry into the SCO strengthens Tehran's relationships with China and Russia and demonstrates the need for more unity among Israel, the United States, and its Arab partners about the challenges coming from China.
The SCO was formed in 2001 as an intergovernmental organization dedicated to addressing political, economic, and security issues across Eurasia. China and Russia dominate the SCO, whose member states also include India, Pakistan, Kazakhstan, Kyrgyzstan, Tajikistan, and Uzbekistan. Diverse security priorities and tensions among members, exacerbated by the addition of India and Pakistan in 2017, mean that the SCO functions more like a diplomatic forum than a unified security bloc.
Despite these limitations, Iran's SCO membership underscores Tehran's desire to build a deep and comprehensive partnership with the People's Republic of China. Under Iran's "Look to the East" foreign policy, Tehran sees China as its main long-term partner. Earlier this year, Iran and China signed a 25-year strategic partnership that will see China invest several hundred million dollars in Iranian projects, including nuclear power, energy development, and infrastructure. A leaked draft of the partnership agreement called for combined Chinese-Iranian military exercises, weapons development, and intelligence sharing. The final terms of the agreement remain secret.
Read More: FDD