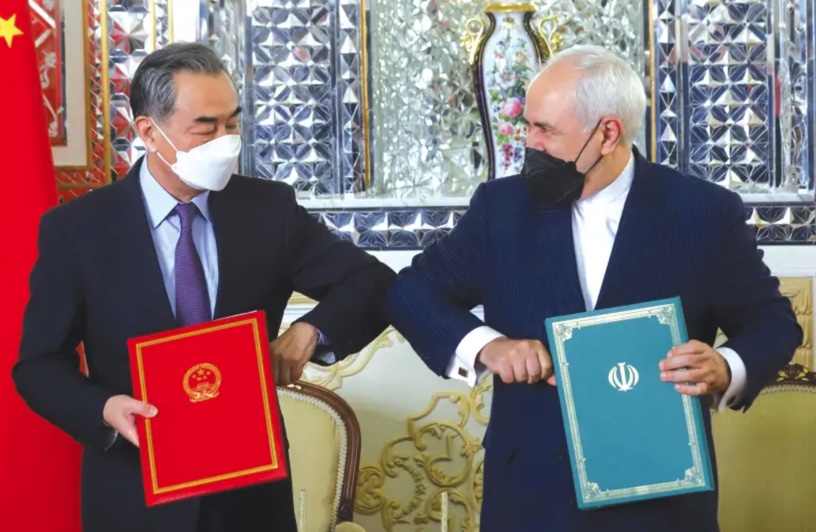 In The News
Iran hopes China ties will help it around US sanctions
Iran's deputy foreign minister Ali Bagheri Kani, who is also the Iranian chief nuclear negotiator spoke to his Chinese counterpart this week, according to reports in Iran. Tasnim News says that the "Senior Negotiator and Deputy Foreign Minister, this evening (Wednesday, December 8) called Chinese Vice President Zhaosu to discuss the Vienna talks."
This is important.  Ali Bagheri Kani was seen leaving the Coburg Palais in Vienna on December 3, 2021, as Iran talks appeared to stall. They may now be moving forward, but Iran is reaching out to China for support. Iran and China have signed a 25-year deal recently and Iran sees China as a future key partner.
Iran and its proxies increasingly are looking east and believe the West is less relevant and that the US and the West are declining. It is only a matter of time, Iran thinks, before Russia, China, Turkey, and other powers will mean that US sanctions are irrelevant.
The background here is interesting. On November 1, 2021, China Vice Foreign Minister Ma Zhaoxu held a phone conversation with Iranian Deputy Foreign Minister Ali Bagheri Kani at the latter's request, China's foreign ministry said at the time. "Both sides exchanged views on the Iranian nuclear issue and reached extensive consensus. Both sides agreed to maintain close communication and coordination on relevant issues."
What is happening this week? "Iran's chief negotiator in the phone call referred to Beijing's support for the Islamic Republic of Iran's views on important issues, such as prioritizing the lifting of illegal US sanctions and noted the wide range of cooperation between the two sides and the alignment of the two countries' positions on many international issues, including the Vienna talks. He also appreciated receiving the guarantee from Iran," Tasnim says.