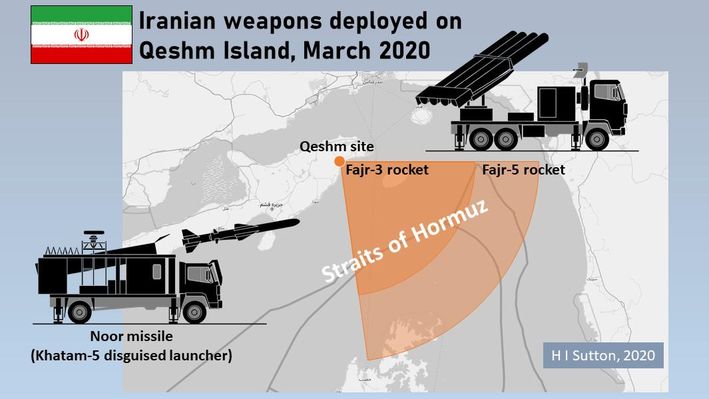 In The News
Iran
Iran Deploys Missiles Covering The Strait Of Hormuz
Evidence suggests that Iran has deployed an array of anti-ship missiles and large rockets overlooking Strait of Hormuz, which is vital for the supply of oil from the Arab states of the Persian Gulf. The waterway is being patrolled by U.S. Navy and its allies to protect vessels from Iranian action.
Multiple amateur videos and photos of the weapons lined up overlooking the beach began surfacing on social media on April 4. Geospatial analysis has confirmed that the location of one of the batteries is on Qeshm Island.
The images show the weapons were deployed beside the coast road, facing east towards the Strait, between Qeshm and Borka Khalaf, and were lined up behind a protective sand berm. The space between them suggests a tactical deployment. It's unclear whether it is an exercise or a show of force, and whether or not it was supposed to be seen.
The weapons appear to belong the Islamic Revolutionary Guard Corps (IRGC). The systems seen include the Fajr-3 and Fajr-5 multiple launch rocket systems (MLRS). The Fajr-3 carries twelve 240mm (9.5 inch) rockets. These have a range of 27 miles and carry a large warhead. All twelve rockets can be loosed off in under two minutes.
Read More: Forbes