Iran
Issues
Iran arrests two Catholics in new wave of brutality against Christians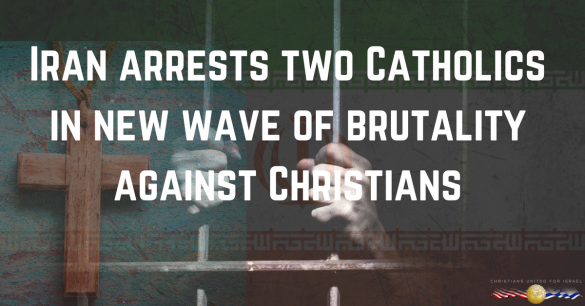 Iran's Islamic Revolutionary Guard Corps (IRGC) arrested two Christians – a mother and her son – in late February as part of a brutal crackdown on Catholicism in the country's West Azerbaijan Province.
The family's bibles and literature on Christian theology were also seized during the draconian raid, according to a March 5 report on the website of the Iranian Christian News Agency, Mohabat.
"The arrest of two newly Christian converts – Anousheh Rezabakhsh and Soheil Zargarzadeh (mother and son, respectively) – in Urmia, a northern city in Iran, is very sad and concerning, especially as they both are dealing with health issues. It's been more than two weeks that Iranian authorities have not provided any news on them," Eliot Assoudeh, an Iranian-American academic at University of Nevada, told Fox News on Wednesday.
He said Christianity is the fastest-growing religion in Iran, and many Christian converts "have to risk their lives attending underground churches."
Assoudeh, who recently presented an article on The Islamic Republic of Iran: Between Theocracy and 'Clerical Fascism,' said the U.S. should do more to protect Christians across the world who are under attack.
"The United States, its Western allies, and the international human rights organizations should show their concern, call on the Islamic Republic authorities and demand the immediate release of these two Christians," he said.
The IRGC forced  Rezabakhsh and Zargarzadeh, a psychology student, from their home and took them to an undisclosed detention facility. The Mohabat wrote that religious minorities arrested in Urmia "are normally detained in the Revolutionary Guards Intelligence building."
Urmia—a city of nearly 700,000—is famous for housing the Cathedral of St. Mary, the Mother of God whose origin dates back to the 16th century.
Julie Lenarz, the executive director of the London-based Human Security Centre, told FoxNews.com that many Christians "are convicted in sham trials and linger in jail for years as prisoners of conscience. They face harassment, torture or even execution."
She said these groups are specifically targeting converts.
"Leaving Islam or converting to another religion is punishable by death in the Islamic Republic of Iran," Lenarz said.
A recent report by Open Door USA—an organization that tracks the persecution of Christians—ranked Iran as the eighth worst country for Christians.
Read more: Fox News