Iran
Iran admits it shot down Ukrainian airliner, sparking protests in Tehran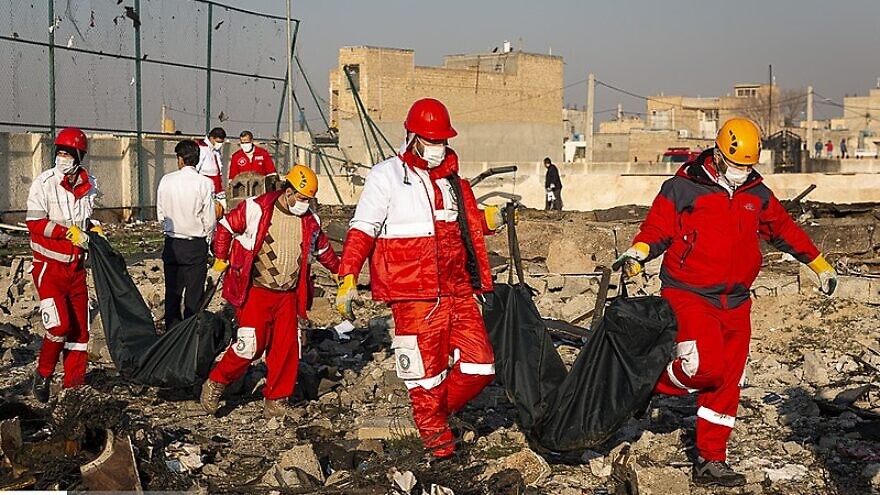 (January 12, 2020 / JNS) Protesters gathered outside Amirkabir University in Tehran on Saturday night, shouting "Khamenei is over" and calling the government "shameless" after Iran admitted that its forces had shot down a civilian airliner, killing 176 people, and then lied about it.
In initial reports of the crash of the Ukraine International Flight PS 752, a Boeing 737 which crashed shortly after takeoff in Tehran on Wednesday, Iran's Road and Transportation Ministry claimed that the crash was caused by "technical difficulties." However, Western intelligence reports pointed to Iranian culpability as tension escalated between Iran and the United States following the killing of top Iranian general Qassem Soleimani on Jan. 3.
Iran's military released a statement Saturday morning admitting its "unforgivable mistake," and Iranian Supreme Leader Ayatollah Ali Khamenei ordered an investigation into the incident.
Israeli Prime Minister Benjamin Netanyahu said in a statement on Sunday that Iran knew right from the start what had happened, but tried to cover it up.
"Iran lied. Just as they lied about their secret nuclear program, they are lying now about the downing of the Ukrainian aircraft," said Netanyahu. "They knew from the start that they had downed it. They knew that it was an unintentional downing, but they lied intentionally. They deceived the entire world. This is completely contrary to how a civilized country should act and we send our condolences to the victims of Iran's deception and negligence."
Netanyahu noted the courage of the Iranian people who have taken to the streets, demonstrating against the Iranian regime.
"They deserve freedom, liberty and the ability to live in security and peace, all of which the regime denies them," he said.
The Israeli prime minister also commended U.S. President Donald Trump for "imposing new and very harsh sanctions against this regime," calling on Britain, France and Germany to join the American effort.
The U.S. president conveyed his support for the protesters on Twitter, writing, "We are following your protests closely, and are inspired by your courage."
"They need to go to the Security Council, and there they need to activate the sanctions that have been decided upon. I would like to reiterate: Israel will not allow Iran to develop nuclear weapons," he said.
At the protests, the U.K.'s ambassador to Iran, Robert Macaire, was arrested for "inciting" protesters, but was released after a few hours, according to Iran's Tasnim news agency. The U.K.'s foreign secretary called the arrest a "flagrant violation of international law" and "without grounds or explanation."
"The government of Iran must allow human rights groups to monitor and report facts from the ground on the ongoing protests by the Iranian people. There can not be another massacre of peaceful protesters, nor an internet shutdown. The world is watching," he wrote.
Following the Iranian announcement, Canadian Prime Minister Justin Trudeau said he was "outraged and furious," and demanded that Tehran "take full responsibility" for the "horrific" incident, in which 57 Canadians lost their lives.
Though various IRGC leaders have expressed sorrow over the incident, claiming that there was a breakdown in communication and a missile operator had mere seconds to decide whether to fire, various Western figures have cast doubt on this claim as well.
Read more: Jewish News Syndicate