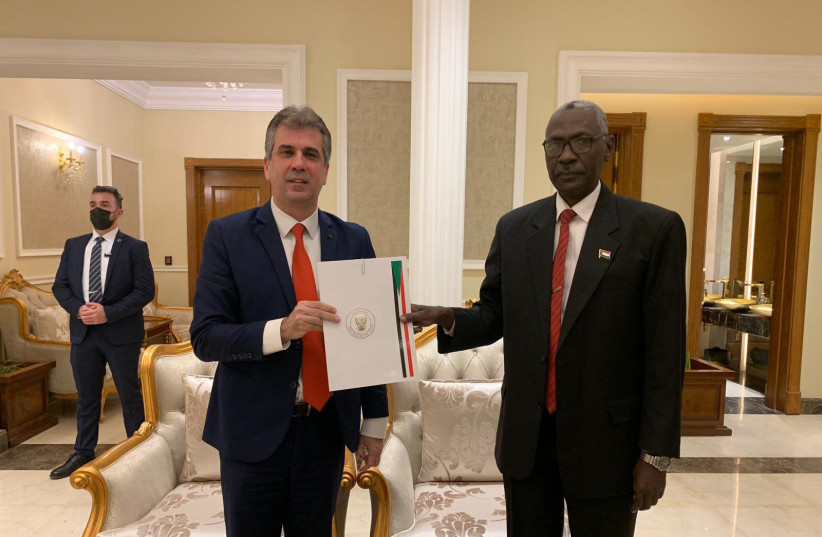 In The News
Intelligence Minister Leads First Official Israeli Delegation To Sudan
01/26/2021
Intelligence Minister Eli Cohen was the first Israeli minister to ever visit Sudan, which he did on Monday.
Cohen and Sudanese Defense Minister Yassin Ibrahim Yassin signed a memorandum of understanding on "diplomatic, security and economic matters," Cohen's spokesman said. The Israeli minister also met with Sudanese transitional leader Abdel Fattah al-Burhan.
"I am certain that this visit laid the foundations for important cooperation that will help Israel and Sudan, and stabilize the region," Cohen said.
The intelligence minister arrived in Khartoum with a delegation from the Intelligence Ministry and the National Security Council. They returned several hours later, before the government closed the country to incoming and outgoing flights.
The minister expressed optimism that more countries in the region will follow Sudan and establish diplomatic relations with Israel.
Sudan is the third of four countries to join the Abraham Accords, the Trump administration-negotiated normalization and peace agreements between Israel and several Arab states. Sudan had sent troops to fight Israel in the wars of 1948 and 1967, and Khartoum was the site of the "Three Nos" by which the Arab League declared it would not recognize, negotiate or make peace with Israel.
Read More: Jerusalem Post