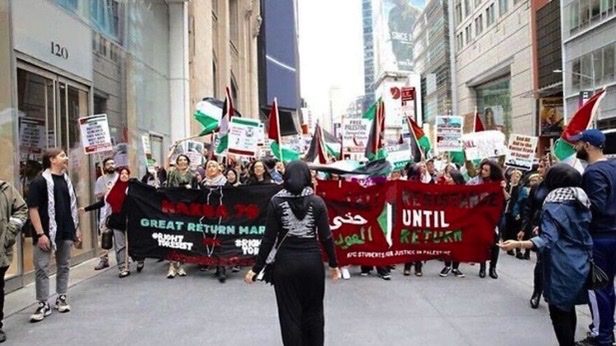 In The News
Instagram bans anti-Israel group after it posts collage featuring terrorists
Within our Lifetime (WOL), a New York City-based anti-Israel group that supports the Palestinian right of return "from the Jordan River to the Mediterranean Sea," resistance to the "Zionist occupation by any means necessary" and "the abolition of Zionism," said that it had been banned from Instagram last week, apparently after it posted a collage featuring prominent Palestinian terrorists.
The collage—posted March 8 and featuring terrorist women—was WOL's idea of celebrating International Women's Day. Among those depicted in the collage were Rasmea Odeh, who was convicted of two terrorist bombings in 1969, one of which killed two Israeli agriculture students in Jerusalem; and Leila Khaled, part of a Palestinian terror group that hijacked a TWA flight that same year. The ban came the next day.
"We applaud Instagram's ban," Liora Rez, executive director of StopAntisemitism.com, told JNS.
"We're now requesting Facebook do the same," said Rez.
WOL is led by Nerdeen Kiswani, a New York City law student. An online poll by StopAntisemitism.org in 2020 named her "Antisemite of the Year."
Kiswani also reportedly harassed a Jewish student to the point that the student quit law school.
"Nerdeen, essentially, was so radical that she stepped down or was 'asked' to leave Students for Justice in Palestine in New York," said Rez.
"She ended up forming Within Our Lifetime around 2018. This organization in particular attracts the most radical individuals. It's an extremely anti-Semitic organization. It publicly supports U.S.-designated terror organizations such as the Popular Front for the Liberation of Palestine (PFLP)," said Rez.
Read More: JNS