Israeli Technology
Innovation center for special-needs kids opens in Jerusalem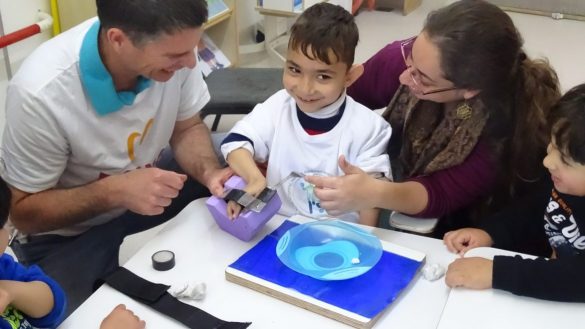 Yosef cannot hold a fork or spoon. The little boy was dependent on others to feed him until an assistive device was fashioned for him at ALYN Hospital, a nonprofit pediatric and adolescent rehabilitation facility in Jerusalem.
While inventive solutions for ALYN patients like Yosef have been created in the onsite biomechanical lab for the past 25 years, now the one-of-a-kind hospital is incorporating the lab into a unique state-of-the-art innovation center.
The center encompasses two tracks: PELE (a Hebrew acronym for Solutions for Children of ALYN), which designs case-specific solutions for special-needs children; and ALYNnovation, where entrepreneurs will develop and work with corporate partners to commercialize mass-market assistive products to enhance independence and quality of life for children with special needs everywhere.
Set to open officially in September in a former storage area of the hospital, the 500-square-meter center is built for inspiration, featuring a glass wall facing the Jerusalem Forest.
On the practical side, the center provides a single address for product design and prototyping with input from ALYN clinicians, as well as in-house product testing with the target audience.
"The fact that it's under one roof provides added value to the entrepreneurs," says Danna Hochstein Mann, director of ALYNnovation. "They can make a prototype using our 3D printers, interact with the children in real time to test the prototype, and go back to the lab and tweak it. It's much cheaper to do this process in the prototype stage."
Read More: Israel 21C