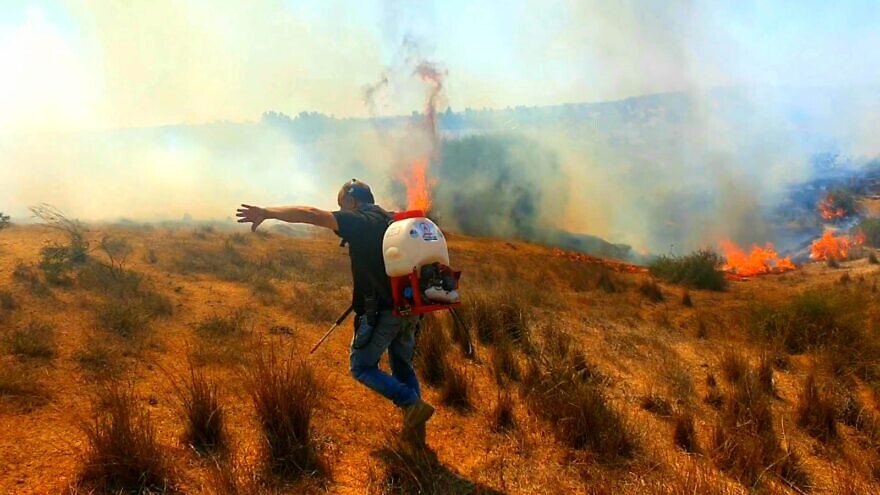 In The News
Incendiary balloons cause numerous fires throughout southern Israel
05/08/2021
Incendiary balloons launched from Gaza caused numerous fires throughout southern Israel on Friday and Saturday amid rising tensions surrounding West Bank settlements.
Five fires were detected at the Kisufim forest and three others were detected at the Beeri and Besor forests on Friday.
Teams of volunteers and professionals from Israel's Fire and Rescue Services, the Jewish National Fund (JNF) and Israel Nature and Parks Authority were dispatched to the different scenes and managed to prevent the spread of the fire to nearby towns. 
Saturday marked the third consecutive day of fires breaking out in several areas of southern Israel due to incendiary balloons. A total of 10 fires were detected on Saturday, as well, each one in a different location throughout the Eshkol Regional Council and the Sha'ar HaNegev Regional Council. 
Most of the fires were small and relatively easy to put out, the Fire and Rescue Department said, and the only damage done was to a wheat field. Investigators found that the 10 fires were caused by incendiary balloons.  
On Thursday, seven fires broke out in open fields within the Eshkol Region. They did not pose any danger to nearby towns and no injuries were reported. However, substantial damage was caused to one wheat field. 
Read More: Jerusalem Post