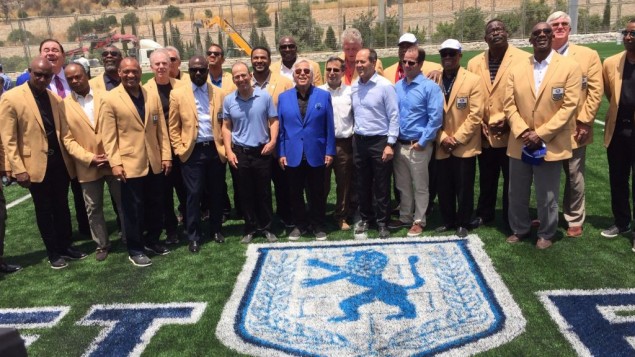 Israeli Society
Issues
Inaugurating new fields, Patriots' Kraft puts Jerusalem football in end zone
The white paint for the 50-yard-line on the third football field was still fresh when Robert Kraft recited the Hebrew "Shehehiyanu" blessing for new things and cut the ribbon in Tuesday's ceremony marking the opening of the new Kraft Family Sports Campus in Jerusalem.
"Okay, Robert, throw it out," said Hall of Famer Aeneas Williams, running out for a touchdown.
New England Patriots owner Kraft was joined at Tuesday's ceremony in the Emek Ha'arazim area of Jerusalem by 18 former NFL stars, who are in Israel for a week-long trip he hosted as part of an effort to promote the sport in a country that primarily sees "football" as soccer.
The visiting NFL hall-of-famers include Roger Staubach, Jim Brown, Eric Dickerson, "Mean" Joe Greene and four-time Super Bowl champion Joe Montana.
"It's been an amazing trip," said Montana as he stood with Kraft, looking out over the freshly laid turf of the new field.
Kraft made a $6 million gift toward the sports complex — his second in Jerusalem, after Kraft Stadium near the center of the capital.
This larger complex was constructed with sponsorship from organizations Mifal HaPais and Toto, and built in collaboration with the Jerusalem Foundation and the Jerusalem Development Company – Moriah.
Due to open in two weeks in time for the 20th Maccabiah, the complex contains two soccer fields and one dual-use US regulation football and soccer field, as well as locker rooms, administrative offices, parking, a central pedestrian thoroughfare and plans in the pipeline for additional facilities.
Read More: Times of Israel