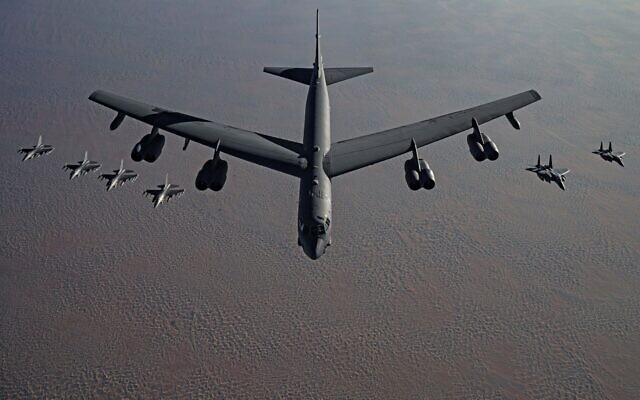 In The News
In Threat To Iran, US Sends Heavy Bombers To Middle East Via Israel
11/23/2020
The United States this week rapidly deployed several heavy bombers to the Middle East this week in an apparent threat to Iran.
US Central Command said the planes were sent into the region "to deter aggression and reassure US partners and allies."
In a highly irregular move, the B-52H Stratofortress planes were seen flying toward Israeli airspace on Saturday en route to the base where they will be stationed, likely in Qatar. The aircraft were spotted on civilian tracking software approaching Israel before they apparently turned off their transponders, rendering them invisible on those applications.
It was the third time in the past year and a half that B-52 bombers, which are capable of carrying nuclear weapons and other powerful munitions, have been deployed to the region in tacit threats to Iran.
In previous cases, the bombers were not seeing flying through Israeli airspace. It was not immediately clear what accounted for the change in route.
The planes were ordered on short notice to fly to the Middle East nonstop from their home base in North Dakota, refueling along the way in mid-air. The bombers were accompanied on the mission by F-15 and F-16 fighter jets, as well as KC-10 and KC-135 refueling planes, US Central Command (CENTCOM) said.
Read More: Times of Israel