Micro-History
In remembering 1929 Hebron massacre, top Israeli leaders visit … and make history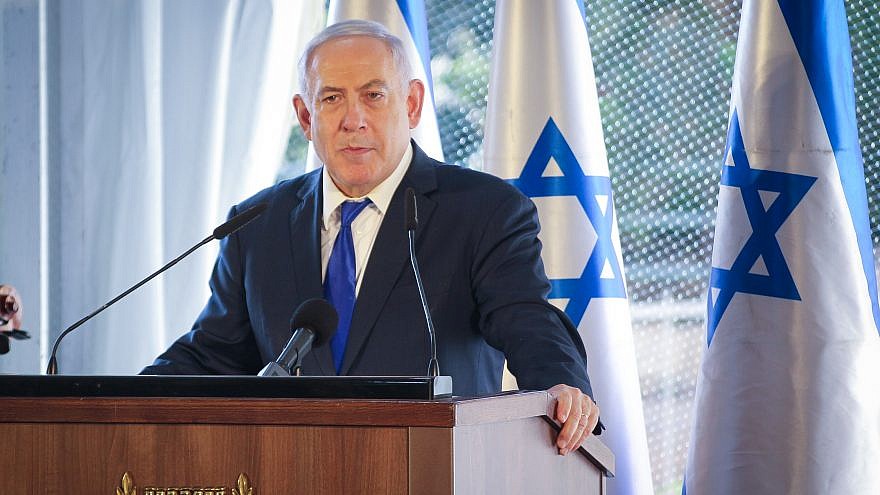 (September 4, 2019 / JNS) "We are not strangers in Hebron, and we will stay here forever!" were the climactic remarks made on Wednesday by Israeli Prime Minister Benjamin Netanyahu during an official state ceremony at the Tomb of the Patriarchs and Matriarchs in Hebron commemorating the 90th anniversary of the 1929 Jewish massacre.
Netanyahu also said that he was proud that his government approved dozens of additional housing units last year for Jewish residents of the ancient city.
Israeli President Reuven Rivlin and Knesset Speaker Yuli Edelstein also visited Hebron on Wednesday, along with other government officials, to take part in the day-long memorial.
A statement released by the official leadership of the Jewish community in Hebron, noted that "for the first time in Israeli history, Israel's prime minister, president and speaker of the Knesset arrived in Hebron on the same day."
In August 1929, 67 Jews were murdered by an Arab lynch mob over the course of three days while their homes and synagogues were destroyed. The survivors were evacuated to Jerusalem, marking the first time in hundreds of years that Hebron was void of a Jewish presence.
The events unfolded following a blood libel started by Jerusalem Arabs, claiming that the Jews were preparing a takeover of the Temple Mount and a massacre of Arabs. In total, 133 Jews were murdered in riots in cities and towns throughout British-mandated Palestine.
Rivlin was the first to arrive at the event in Hebron, taking part in a symposium on the massacre in Hebron's sister city of Kiryat Arba.
"Hebron's Jewish community was present for many years prior to the massacre," he said at the symposium. "There are those recent historians who rationalize that the 1929 massacre was aimed at the 'Zionists' and not at the Jewish people. They are twisting reality. The massacre was carried out against all the Jews … and only because they were Jews."
Rivlin said that Hebron in 2019 is a "test of the ability of Jews and Arabs to coexist together." While there, he visited the Cave of the Patriarchs.
Edelstein, at a memorial ceremony at the gravesite of the victims in the ancient Hebron Jewish cemetery, called for the application of Israeli sovereignty over the city. He said: "Ninety years after the 1929 massacre, we have to say clearly: "It's time for Hebron! It's time for sovereignty in Hebron! It is time for the Jewish community in Hebron to grow by the thousands! It's time for a visit to the Cave of the Patriarchs to be the easiest, most comfortable, and most natural thing."
Alongside Israeli Justice Minister Amir Ochana, he also took part in a small ritual affixing a mezuzah on a newly purchased building by the Jewish community called "The Machpela House" opposite the Cave of the Patriarchs.
In regard to the visit of the high-profile government officials, Yishai Fleisher, international spokesperson for the Jewish community in Hebron, said "we are very pleased to have the leaders of the government of Israel here today. And we're saying to them, 'Amazing that you are here today, amazing that you are recognizing, amazing that you are remembering! Let's take that energy and build towards the future.' "
Read more: Jewish News Syndicate