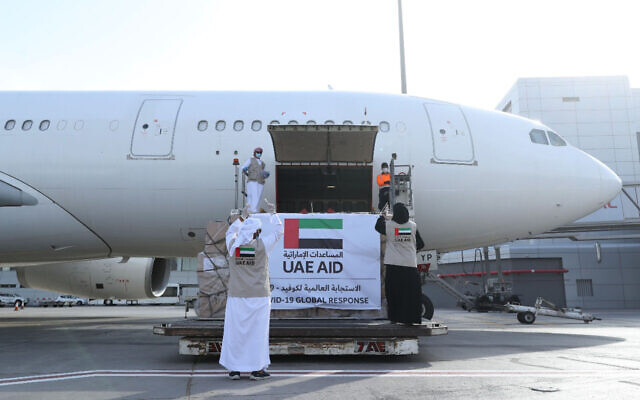 In The News
In First, Direct Commercial Flight from UAE Lands in Tel Aviv
United Arab Emirates-based Etihad Airways made history on Tuesday, flying a plane loaded with virus aid for Palestinians on a direct flight from Abu Dhabi to Tel Aviv, marking the first known direct commercial flight between Israel and the UAE.
The Etihad cargo jet, painted in all white and missing any marking, landed at Ben-Gurion Airport just after 9 p.m. after seemingly flying a roundabout route through Iraq and either Jordan or Turkey.
The flight struck a rare moment of public cooperation between the UAE, home to Abu Dhabi and Dubai on the Arabian Peninsula, and Israel. The countries have no formal diplomatic ties to Israel, but have begun to increasingly cooperate openly after years of rumored back-channel discussions between them over the mutual enmity of Iran.
An Israeli official said the flight was delivering humanitarian aid provided by the UAE to the Palestinians through the World Food Program, and that the cargo flight was coordinated with the Israeli government. The official spoke on condition of anonymity due to the sensitivity of the subject.
"For the first time, an @etihad cargo plane just landed at Israel's Ben-Gurion airport! Hopefully soon, we will see passenger flights, too," Danny Danon, Israel's ambassador the UN, wrote on Twitter.
Read More: Times of Israel